$4 billion renovation for LaGuardia Airport (NYC)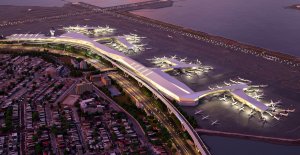 The decision is final. New York's LaGuardia Airport will definitely undergo a $4 billion redesign that will fully replace the existing airport by 2021. The airport will finally be able to improve its bad reputation of being America's worst airports for years.
LaGuardia will consist of one terminal with increased taxiway space to cut down on flight delays, a retail and hotel complex, and advanced airport security protocols. The new airport will also be linked to the New York City subway system. Building will start in 2016. The first half of the project is scheduled to open in 2019; the rest is to be completed within a year and a half after that.
The LaGuardia overhaul is regarded as an investment in New York's infrastructure and economy. New York City pulled in 56.4 million tourists in 2014, generating $61.3 billion.
Further reading on travelandleisure.com
Image by New York State Press Office