Peder Ydalus: to San Francisco for 'Burning Man'
BlueBiz Birthday Campaign – a winner from Norway
Peder Ydalus (38) from Norway will finally get the chance to visit his favourite cultural 'Burning Man' festival in the desert of Nevada. As the winner of our BlueBiz birthday, Peder wins two tickets to San Francisco!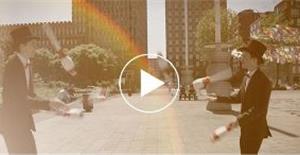 The BlueBiz Birthday Campaign offers a wonderful opportunity to win free tickets to BlueBiz members. After he received our special birthday email, Peder Ydalus from Norway presented his favourite destination in a creative way – and won tickets.
In his effort to win free tickets to any destination, Peder sent us this message: "I'd like to visit the legendary festival Burning Man, situated in the desert a few hours from San Francisco. About 70,000 people gather here to dance under the stars and the art people bring is absolutely mind-blowing. This is a once-a-lifetime experience."
"I never win anything"
When he found out he was our March winner, Peder was thrilled. "I never win anything", responded Peder, who is a self-employed IT and artificial intelligence expert. "Travel is my passion and participating in the 'Burning Man' festival has been on my travel bucket list for years. It takes half a day by car to travel to the desert from San Francisco and when you get there, there is no food or drink on sale. The idea of the one-week festival is that everybody brings as much as possible – you share what you have with other people."
What else is on Peder's list? "I would love to visit Kilaeua on Hawaii, one of the earth's active volcanoes, that has lava running off its slopes. It would involve travelling to San Francisco with Air France KLM and added the stretch to Honolulu", says Peder, just before boarding a plane for Budapest, the starting point of a trip through Hungary, the Czech Republic and Poland…
How can you win?
In BlueBiz' Birthday Campaign, every BlueBiz member receives a special birthday email. When you open the mail, watch the personalised video and join the competition. Be creative or add a little humour to win two Air France KLM tickets to your favourite destination. So go ahead, tell us your dream and surprise us. You may win those tickets!
So if you have your birthday coming up, check your inbox for our BlueBiz Birthday Campaign email. You could be the next winner of free tickets!