Winner of the April Birthday Campaign: Esther Na
The sweet scent of lavender
For many people, thinking of France brings up images of the boulevards and cafés of Paris. Some think of the cool breeze and great seafood in Bretagne. Esther Na in Hong Kong dreams of fields blue sweet-scented lavender in the Provence. Soon, her dream becomes reality, as she won two return tickets Hong Kong – Paris in our BlueBiz birthday campaign!
The BlueBiz Birthday Campaign offers a wonderful opportunity to win free tickets to BlueBiz members. Just tell us where you would like to go and come up with a funny, romantic, adventurous or otherwise interesting reason and you may win!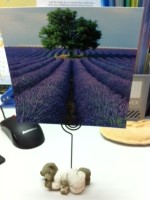 Last year, Esther Na (50) in Hong Kong received a postcard from a colleague of the well-known lavender fields in the Provence. Being a life-long fan of the sweet scent and of the idea of walking through fields of lavender, Esther kept the postcard on her desk. "Looking at it almost every day, I can almost smell the flowers and feel the warm wind in the south of France. When the email from AIR FRANCE KLM BlueBiz arrived I did not hesitate and decided to enter the competition with my lavender fields idea. I am so happy – I cannot believe that I am finally going to see the Lavender with my husband!"
Esther is a Shipping and Clients Liaison Manager for the French children's toy brands Kaloo and Janod. Her business trips with AIR FRANCE KLM take her to Paris, but until now she has never managed to find the time to make her lavender dream come true. "After receiving the news about winning the tickets, I quickly checked our family schedule and booked the trip for end of June. My husband has never been to France, so I will show him the romantic city of Paris before flying to Marseille, to my dreamland to see the flowers."
How can you win?
In BlueBiz' Birthday Campaign, every BlueBiz member receives a special birthday email. When you open the mail, watch the personalised video and join the competition. Be creative or add a little humour to win two AIR FRANCE KLM tickets to your favourite destination. So go ahead, tell us your dream and surprise us. You may win those tickets!
So if you have your birthday coming up, check your inbox for our BlueBiz Birthday Campaign email. You could be the next winner of free tickets!