Art lovers prefer Le Méridien Taipei
Surveys show that the first ten minutes after arriving at a hotel define a guest's entire experience and establishes his or her mindset. The new Le Méridien Taipei does a good job at creating a wonderful arrival experience.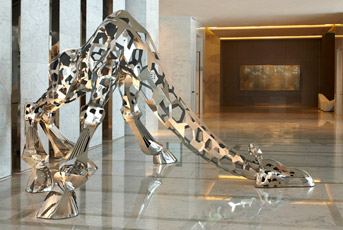 As part of its award-winning 'Arrival Experience' concept, Le Méridien brand's first hotel in Taiwan surprises its guests with an arty welcome – a stainless steel giraffe lowering its head and resting. This wonderful peace of art in the hotel's lobby is created exclusively for this hotel by Li Hui. This artist is member of LM100, a group of cultural innovators and artists who define and enrich the guest experience at Le Méridien.

The group comprises a global array of visionaries, from painters to photographers, musicians to designers, chefs to architects. Le Méridien Taipei offers over 700 original artworks created exclusively for the hotel by contemporary artists from around the world, including Taiwan, China, Japan, Belgium, the UK and Germany.
Centrally located in Xinyi
Le Méridien Taipei is everything you expect from a business hotel in this great business city on Taiwan. The hotel is located in Xinyi District; The World Trade Centre is close by, as is Taipei 101, the second-tallest building in the world and numerous department stores. It offers fine food, from Cantonese and Taiwanese cuisine at My Humble House to trendsetting cocktails at Quube. There is also an indoor pool, health club, and lobby coffee bar. Plus a bonus, again for art lovers: the Le Méridien Unlock Art programme of the hotel includes an artist-designed key card collection that offers access to not only the guest's hotel room. Le Méridien Taipei's keycard also grants guests complimentary access to the Museum of Contemporary Art Taipei.
Image by starwoodhotels.com