Dallas – Skiing at Grand Alps Resort
Who said business travellers should always stay in boring hotels that all look the same? If you are visiting Dallas, Texas and are into staying at fun places, the Grand Alps Resort will be the place to book. The resort will include a Hard Rock Hotel. Be patient, the hotel is not finished yet.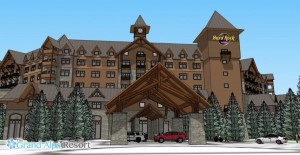 The resort will feature a $140 million indoor ski resort that comes with a $75 million Hard Rock Hotel. Dallas News reports that the hotel will contain 300 rooms, 14.600 square metres of meeting space, at least two restaurants, an exercise facility, luxury spa facilities and a resort-style rooftop pool complex.

The indoor ski resort will be a year-round, world-class fourth generation indoor facility with restaurants and specialty retail, and will be integrated with the Hard Rock hotel. The snow dome will offer indoor ski slope measuring nearly 91 metres tall and 365 metres long, an indoor ice climbing wall, luge track and winter wonderland play area.

Be prepared to wait a bit. Building will start in 2015, opening is scheduled for 2018.