Four Seasons Hotel Montreal, elegance at the Golden Square Mile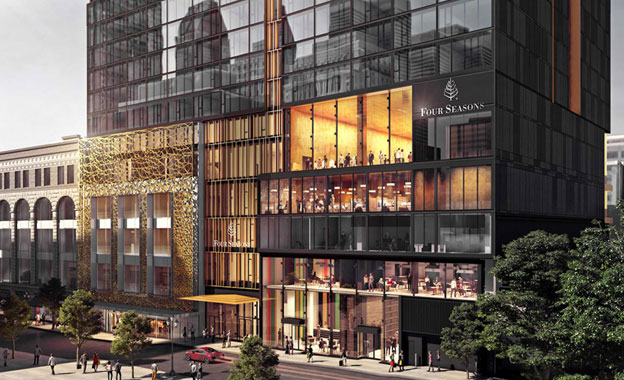 A brand new Four Seasons Hotel is opening soon in Montreal, Canada. A new venue for chic and fashionable dining, drinking, socialising and – obviously – sleeping. From now on, the hotel is accepting bookings from business travellers as well as for the city's big events, such as the 2019 Montreal Grand Prix taking place June 7 to 9.
According to LuxuryTravelMagazine, the hotel is well-located at the heart of the Golden Square Mile, aka Le Mille Carré. This is the nostalgic name given to a fashionable urban neighbourhood at the foot of Mount Royal, in the west part of downtown Montreal.
It is a good central location for any business traveller; for shoppers, Four Seasons couldn't be better positioned, having direct access to the adjacent Holt Renfrew Ogilvy (a well-known Canadian apparel retailer) from its third-floor lobby.
The new Four Seasons offers rooms with floor-to-ceiling windows in spacious guest rooms, filled with sunlight and sparkling views of the city.
For fine dining, the Four Seasons features MARCUS, the first Canadian restaurant by internationally renowned chef and restaurateur Marcus Samuelsson. The hotel also proudly boasts its expansive third-floor terrace, where one can meet for a meal or sunset cocktail.
Further reading on: luxurytravelmagazine.com
Image by Four Seasons Hotel Montreal