Just opened in the US (3): The Moxy Denver (Denver)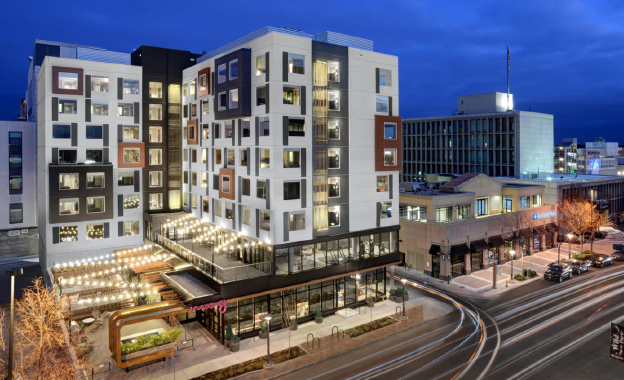 Marriott Hotels has opened a new property with its millennial brand, Moxy, in Denver. The hotel is known for its modular L-shaped tower that comes with a courtyard strung in lights – a great place to hang out for the millennial travelers that Marriott targets with this hotel.
Cherry Creek, the neighborhood that hosts the new Moxy Denver, is known for its hundreds of art galleries, boutiques, restaurants, and spas with a reputation for elegant, refined living. The area is known to be Denver's 'most walkable district'.
The hotel also has a terrace on the second floor. The hotel rooms feature fast wifi streaming and a 50" TV. Guest will enjoy 24/7 self-serve food and beverages in the lobby and free Wi-Fi. But the best feature of this hotel are the lovely views of the Rocky Mountains. Rates start at $135.
Further reading on Marriott.com
Photo credits: Moxy Hotel Denver