JW Marriott Marquis Hotel Dubai - the world's tallest hotel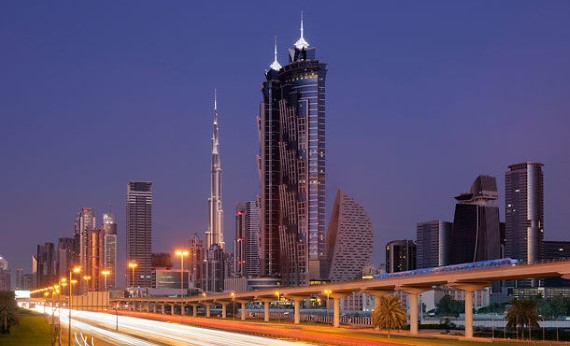 JW Marriott Marquis Hotel Dubai, the world's tallest hotel, has opened a second tower with 294 additional guest rooms. The total number of rooms is now 1,098. In autumn of 2014, the room count will be 1,608.
The landmark 5-star hotel in Dubai, on Sheikh Zayed Road, is one of the region's most desirable nightspots, offering a spectrum of facilities. The hotel is known for its great number of hospitality outlets. Tower 1 operates 13 bars and restaurants, including Prime 68, GQ Bar Dubai, Tong Thai, Positano and Rang Mahal by Atul Kochhar. Tower 2, which is identical to Tower 1, will host two new food and beverage outlets. And the guest rooms are 5-star as well; they are equipped with the latest technology, including LCD TVs, iPod stations, Wi-Fi and a master room control tablet.
The hotel's 86,000 square feet of total event space in downtown Dubai features two exquisite ballrooms and 32 meeting rooms. The top of the hotel's second tower, on the 72nd floor, will be operated at a function space for hire. The location is said to be perfect for amazing weddings of the international jet-set as well as the local rich and famous.
Photo credit: JW Marriott