Pullman Sao Paulo: Best Business Hotel Brazil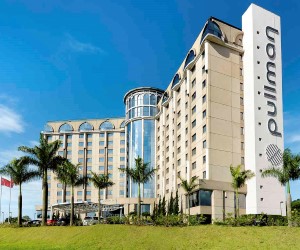 Hotel Pullman Sao Paulo International Airport was voted Best Business Hotel in Brazil in the 2015 Business Destinations Travel Awards. There is one big reason why business people visiting Brazil's capitol prefer the Pullman: the hotel offers just the right set of guest facilities.
Pullman Sao Paulo has 377 guest rooms and suites, all of which come with soundproof windows, interactive cable television, free Wi-Fi access, a safe and a Nespresso coffee machine.
Part of the hotel's great looks comes from the its main architectural feature of the exquisite glass dome, that provides great amounts of natural light. Another bonus that business travellers like about the hotel is the total connectivity throughout the hotel, that actually works. If the system does not perform as it should, there is a dedicated IT solutions manager that will fix it – better than having a front desk manager continuously promising that "housekeeping will fix it soon".
Another plus is the hotel's excellent location, near the São Paulo International Airport, 30 minutes away from the city's financial district and only 20 minutes from Tatuapé metro station, which provides access to the city. The hotel provides free airport transfers. Among the wide range of services are a swimming pool, a multi-sports outdoor court, and a luxury spa and fitness centre, as well as a wide range of restaurants that cater for any taste; there is the Open Kitchen, the Agraz restaurant and a convenient lobby bar that serves drinks and bites all day.
Image by the Pullman Sao Paulo