Six Senses Duxton Singapore: authenticity, community, and sustainability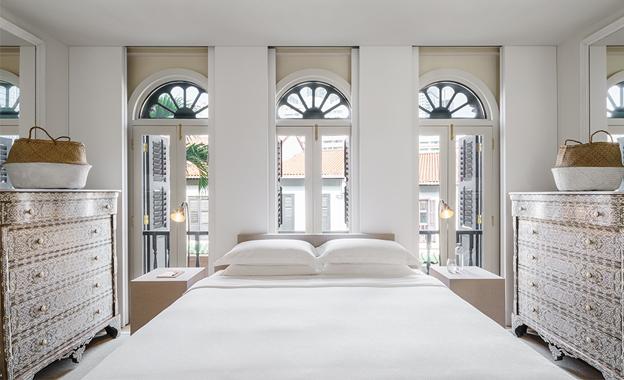 Even before opening day, the new Six Senses Duxton hotel in Singapore had received its first award. The hotel was awarded the Urban Redevelopment Authority Architectural Heritage Award for the way it was transformed from a row of traditional Singaporean shophouses.
Six Senses Duxton, now a 49-room property, was re-designed and re-utilized to harmoniously blend the shophouse aesthetic with the comfort of a modern hotel. As a conservation project, Six Senses Duxton is a success. It will also be a success as a hotel, first of all because of its wonderful location in historic Tanjong Pagar in the Chinatown area of Singapore. Furthermore, the hotel wants to operate in a authentic, community-oriented and sustainable way. There is a hotel-wide drive to refuse, reduce, reuse and recycle waste. Also, Six Senses Duxton produces its own Six Senses drinking water — sparkling and still — by treating, purifying, mineralizing and bottling its own drinking water
The hotel's Yellow Pot restaurant offers classic and innovative Chinese cuisine. The antiquarian-themed Yellow Pot bar serves handcrafted cocktails featuring local ingredients.
Each well-equipped room features a flat-panel television with satellite channels and Bose Bluetooth speaker. Each day guests will also receive two chilled 30ml glass bottles of complimentary health tinctures formulated by Professor Zhang. One tincture is designed to be taken first thing in the morning, the other before going to bed at night, with several varieties on rotation.
Further reading on luxurytravelmagazine.com