Sleepbox, the plug-in airport hotel room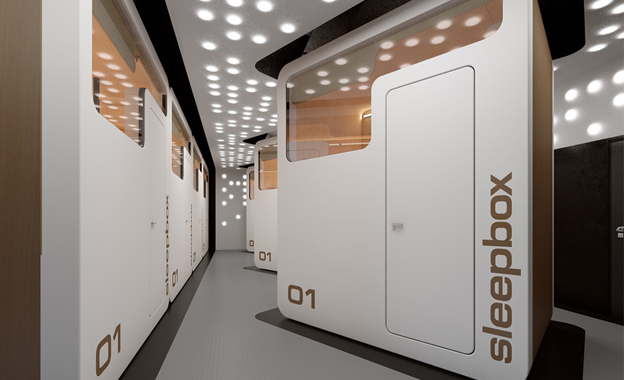 Did you ever have to cope with a long transit on an airport? Catching some sleep, reading or playing games on your phone or working on your laptop can become quite tiring after a few hours. The new Sleepbox micro hotel concept on airports may be the solution for you.
Sleepbox is a new plug-in room concept, that has just launched at Dulles International Airport in Washington, D.C.
The company calls its product 'a plug-in hotel room' and 'a hotel room as a device'. Lodging Magazine reports that guests can rent a Sleepbox room from between one and 24 hours with 15-minute increments. Rooms have different sizes: there is one with a single bed, one with a queen bed, a compact room with a standard bed but less usable space. "All rooms come equipped with charging ports to plug in all personal devices and are soundproof", the magazine reports.
Sleepbox states that the rentable rooms can be implemented at any place where people may need privacy and rejuvenation—not only airports, but potentially places like hospitals, too.
Further reading on: lodgingmagazine.com