Sofitel Bahrain Best Middle East Hotel 2015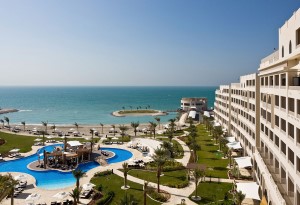 Sofitel Bahrain Zallaq Thalassa Sea & Spa was the big winner at the Hotel Awards celebration meeting 2015 in Dubai. The hotel received the award for Best Middle East Hotel 2015, witnessed by 400 hoteliers, press and guests gathered to hear the winners for this year's fifth annual Hotel Awards.

The 5-star Bahrain property is Accor's only Sea & Spa hotel and offers 262 rooms and 28 suites. Hotel Awards Judge Steven Charlton, Principal Managing Director at Perkins+Will said of the win: "This hotel is setting standards for the hospitality industry in Bahrain."

Situated on the west coast of Bahrain, Sofitel Bahrain Zallaq Thalassa Sea & Spa is a luxurious hotel offering business and leisure guests a paradise setting in which to enjoy an idyllic stay. It is located in a protected area with crystal-clear turquoise waters of the Arabian Gulf away from the hustle and bustle of the mainland.

The Sofitel Bahrain Zallaq Thalassa Sea & Spa is the first hotel in the Gulf to offer thalassotherapy. The complex features 14 treatment rooms (6 for dry treatments and 8 for wet treatments) which are a perfect reflection of its natural surroundings and combine seawater hydrotherapy, massages and Wellness programs. It boasts cutting edge seawater hydrotherapy pool, a freshwater pool, saunas, steam rooms, hairdresser for men and beauty salon for women, as well as a recreation and yoga studio.