The Candler Hotel – historic hotel in downtown Atlanta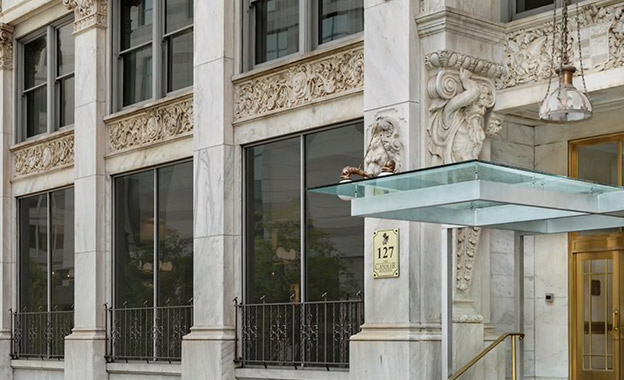 Downtown Atlanta has a new business hotel. The new Candler Hotel, member of Historic Hotels of America, is located in a 17-story high-rise that was Atlanta's first steel skyscraper.
The hotel is the first Curio Collection by Hilton property in Atlanta. It was built in 1906 for Coca-Cola founder and former mayor of Atlanta, Asa Griggs Candler. During an expansive transformation, many of the building's original Beaux-Arts architectural details – as well as the Gothic and Renaissance elements – were retained. The marbleized lobby, with the grand marble staircase and authentic Tiffany windows, has kept its original grandeur. The same goes for the bank vault in the building's basement. The interesting story about the vault that is said to have been used as the hiding place of the sought-after Coca-Cola formula.
In all other hotel areas, upscale modern conveniences have been incorporated. According to a report by Hotel Management, the hotel's 265 guestrooms, including 34 suites, "have a residential feel with custom furnishings, high ceilings, rich textures and abundant natural light streaming through the expansive windows providing views in all directions."
The By George restaurant and bar is next to the hotel's lobby area that serves as the setting for wine tastings and afternoon tea. The hotel also has a 24-hour fitness center.
Further reading on: hotelmanagement.net