Africa's GKSORB: water hyacinth to reduce pollution in an eco-friendly way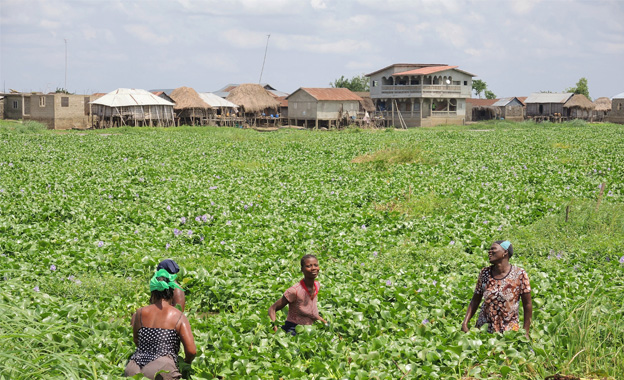 The best protection for the environment often is provided by nature itself. Green Keeper Africa found a natural way to combat oil spills and leaks. This Beninese company uses the water hyacinth, a non-indigenous plant that has become an environmental threat in Africa, and processes it into GKSORB, a 100% organic absorbent that is capable of encapsulating up to 17 times its weight in oils (crude oil, engine oil, etc.).
Dr. Mouftaou Fohla is one of the founding partners and the CEO of Green Keeper Africa. He is a Beninese national, graduated of medicine, pediatrics and public health methodology. He was increasingly struck about the obvious consequences of climate change and ecological disruptions in Benin. Concerned about the world we are leaving for the children he cares for, he made the preservation of the environment his main battle.
Unlikely ally
Green Keeper Africa found an unlikely ally in the water hyacinth, an invasive weed, imported to Africa in the 19th century to decorate ponds; the multiplication of water hyacinth has escaped all control and constitutes a threat to the environment and the local communities. Today, the plant is a fast-growing environmental threat in many African countries, invading lakes, rivers, and agricultural fields. The threat affects agriculture, the fishing industry, health and livelihood.
Organic fibre
Based on extensive research, Green Keeper Africa found that the water hyacinth can be used against pollution by hydrocarbons, acids and paints in African industries. The plant became the raw material of a product that is marketed in Africa as GKSORB: an organic and biodegradable fiber with an extraordinary potential to absorb oily fluids. GKSORB, a product made in Benin by Green Keeper Africa, can be used in all types of oil spills, in industrial separators for hydrocarbons or as a cleaning agent for surfaces contaminated by various pollutants such as hydrocarbons, acids and paints.
Great interest
The product has been tested extensively (according to AFNOR and ASTM standards) and was internationally certified by CEDRE in 2018, says Dr Fohla Mouftaou, who received great interest by industrial companies in Benin and oil and gas companies elsewhere in Africa. GKSORB comes in two varieties: a 'special oil' sorbent and a universal sorbent, suitable for dealing with acid and various pollutants spills, such as motor oil from industrial machine tools, dyes and paints. GKSORB comes in various packagings. Green Keeper sells anti-pollution kits in the 'Vehicles and Transport' product line, which are carry-on spill kits that are small in size and can easily be taken on board all types of vehicles. "These kits", Dr Mouftaou adds, "help to effectively control spills on public roads or parking lots."
Readily available
Club Africa spoke to Dr Mouftaou, who explains that the raw material for GKSORB is readily available in Benin. "The water hyacinth is harvested by the communities in the south of Benin. We have built a network of community harvesters with whom we have agreed on a price which is fine for us and fair for them. During the season the community networks (around 700 harvesters, 80% of whom are women) start harvesting and drying the water hyacinth. Once the raw material is ready (according to the specifications we require) they get paid. The amount of water hyacinth in the region is very high, we have no shortage of raw material. Our approach contributes to a new economy around water hyacinth ("The Hyacinth Market") that brings social and economic added values in the communities."
What customers have you found for GKSORB?
"It is clearly a b-to-b relation. Our clients are mainly in the sectors of construction companies (lifting vehicles), oil-derived product storage areas (ports, airports, oil companies) and several industries, such as the cement, breweries and lubricants industries. We are now trying to push more towards large oil companies in Africa. Recently I have attended a conference of the Department of Petroleum Resources HSE in Lagos, which obviously represents an industry that is very interesting to us."
For what purpose do your customers use GKSORB?
"The main use is to contain and absorb a spill. When and oil pipe bursts, a generator leaks, an industrial machine breaks down or a tanker truck flips over, the GKSORB solution helps them absorb the spill so quickly that the environment is protected – with the added benefit that the work or the traffic can resume very soon. Other situations are the systematic leaking events (every time the task is done, oil leaks occur) like refueling of truck, refueling of generator, unloading a fuel tanker, etc. What we aim to achieve now is to convince oil companies to have sufficient absorbing capacity as emergency preparedness in order to react in case major onshore oil spills."