Egyptian mobile phone maker SICO to launch Africa conquest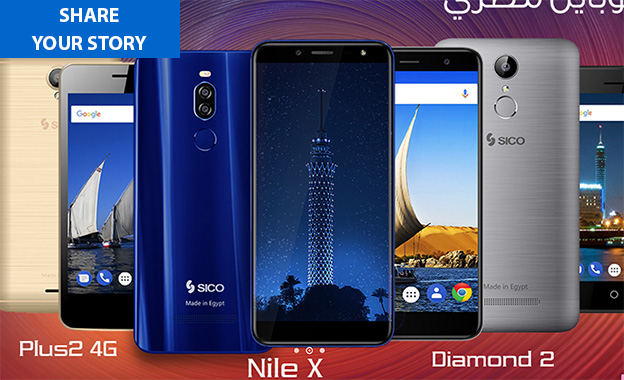 Egypt's smartphone maker Silicon Industries Corporation (SICO) has announced its big leap for 2018/2019. The company, that advertises itself as 'Egypts' first smartphone maker', is targeting the African continent with mobile phones that are assembled in Egypt. The quest for the African consumer starts with SICO's 'feature phone', later with its smartphone products.
The enterprise, with 150 employees, 4,000+ retail outlets and 50+ service centers in Egypt and the Gulf Region, is now ready for the next step, that takes the company into Africa.
The intentions of the Egyptians became big news on regional newswires and TV stations. The ambitious enterprise is already exporting its products to several Arab countries in the region, but Africa is still more or less unchartered territory. To Reuters, SICO's Sales Director Mahmoud Ali proudly announced that the Egyptian enterprise will soon start export to Kenya, Morocco, the Democratic Republic of Congo, South Africa, Nigeria, Mozambique and Ghana. "It is a promising market and there's much less competition than in the Gulf", Mahmoud Ali said. According to the company, there is a big demand for affordable phones in Africa in the $50 to $60 price range.
The Egyptians assemble several 'feature phones' – still used widely in Africa – and smartphones (brand name: Nile X) and a tablet product, based on Chinese-designed 3G/4G technology. To get access to Chinese smartphone technology, the Egyptian company teamed up with China Megan Group in May 2016. SICO is assembling its Chinese-made products in its own factories. The first is a 1200 sqm plant in Abu Rawash, an industrial zone close to Cairo. The factory is equipped with two manual conveyor lines for assembling electronics products. The facility also houses the company's warehouses.
Serving the plans of its African expansion, SICO is currently building a new, 4,000 sqm state of the art mass production facility in Assuit in partnership and with support of the Egyptian government. If all plans come true, the company may increase its current production from 500,000 units in 2018 to 1.5 million units in 2019. Of this total 900,000 would be sold in Egypt while 600,000 would be sold abroad – mostly in Africa. To help expand its operation into Africa, SICO Technology currently has offices in Dubai and Kenya. The Nairobi office serves East Africa in terms of sales, logistics, and technical support.
The phone that SICO has high expectations of in the African market, is the SICO Mini 3 feature phone. "A phone that covers many basic needs", as SICO describes the phone. "It is a dual Sim phone, that accepts an additional memory card to expand storage space. It is easy to carry on due its small size." Users can take pictures using the SICO Mini 3's VGA back camera. The phone has a colorful screen and is advertised as having a FM radio reception feature on boards. Users can use the flashlight-equipped phone as a torch.
SICO assembles and markets mobile phones with smartphone capabilities, such as the NILE X and the Sico Smart Phone Plus 2 4G. The latter one, preinstalled with Android 7.0 Nougat, is provided with two phone lines in addition to a 4.5'' screen for playing games or watching movies. The device is equipped with a rear camera of a resolution up to 5 MP with flash. Users can enjoy the video calls through variable social media applications using the front 2 MP camera with flash.