GCX Ghana: electronic trade to support farmers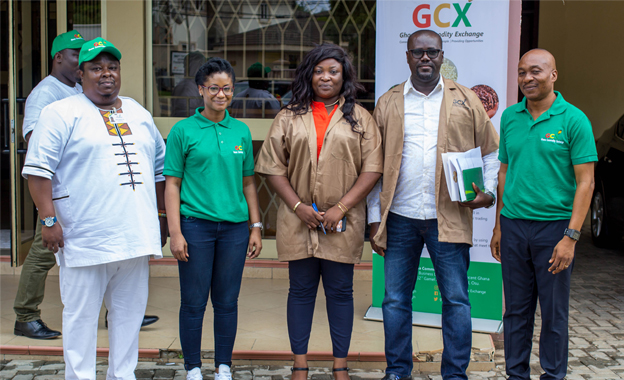 It was a farmer from Ghana's Ashanti region who grasped the opportunity. He delivered 80 mini bags of maize to the new Ghana Commodity Exchange (GCX) and received a good price from a trader. It was the first ever electronic trading of a commodity via GCX, the first exchange of its kind in West Africa. GCX aims to help commercialise the region's agricultural sector, improve market access, increase market efficiency and lower transaction costs.
To farmers in many parts of Africa, it is hard to get a good price for their crops. They have to deal with commodity price volatilities, and many possess little to no knowledge of the true value of their produce. The Ghana Commodity Exchange (GCX) is to change that for Ghana's farmers. The new electronic trading platform brings transparency to farmers, traders and brokers. In addition to that, the Ghana governments aims to support high productivity, price stability, increased exports, and reduced imports of commodities.
The organisation is intended to become a multi-commodity exchange in time. Besides maize, GCX will also other crops such as sorghum, soya and paddy rice, starting in the first quarter of 2019. But as Richard Ankrah, Head of Membership, Outreach and Communications of GCX explains, the first weeks of trade have been dominated by maize, with a trading volume of 75MT to date.
In November, Ghana's president Nana Akufo-Addo rang the trade bell of the exchange to officially commence electronic trade of commodities. Ringing the trade bell was also an invitation to Ghana's farmers to come onboard, deposit their corn and grain at GCX warehouses and work together with the new commodities exchange to enhance commodity trading in the country. "GSX is meant to eliminate speculation, reduce waiting time for delivery and payments, provide accurate and reliable information, new methods of, and access to, secured storage, and increased penetration of credit and agricultural financing", Richard Ankrah insists.
Secure storage, drying, grading
The GCX is regulated by Ghana Security and Exchange Commission (SEC) which requires all traders to be certified members of the Exchange. The exchange offers a lot more than a trading platform, says the GCX spokesperson. "The GCX offers Ghanaian farmers access to secure storage for their harvest and good warehousing management practices, substantially reducing their post-harvest losses, by offering secure storage, product drying and grading, and re-packaging. The warehousing operations are supported by a collateral management system that enables warehouse operators to issue electronic warehouse receipts (e-WRs). Banks provide agricultural financing by using the e-WR as collateral."
The initiators of the GSX expect the outcome to be positive for Ghana's agriculture sector. "GCX key goal is to link Ghanaian smallholder farmers to agricultural and financial markets in Ghana and the West Africa Community (WAC) region to ensure Ghana farmers secure competitive prices for their commodities, as well as supply good quality commodities which meet the nutritional needs of the Ghana people."
Some of the benefits of trading via the GSX:
Access to affordable storage of commodities for up to nine months, to affordable drying, cleaning, weighing facilities to improve the quality and marketability of commodities. Access to grading of commodities so buyers can be informed of quality and reward farmers with a higher price than ungraded commodities. Access to warehouse receipts which is a legal document representing the commodity in the quantity and quality stored in the GCX warehouse. Access to GCX guarantees to get a loan from banks with stored commodity.

Access to buyers or sellers of commodities in Ghana, West Africa and Africa and to commodity prices and market information to help you sell your commodity; guaranteed payment for sold commodity within 2-3 working days, guaranteed delivery of bought commodity within 2-3 days. Free access to GCX trading platform from anywhere including your farms, homes, offices etc.