More African women enter tech industry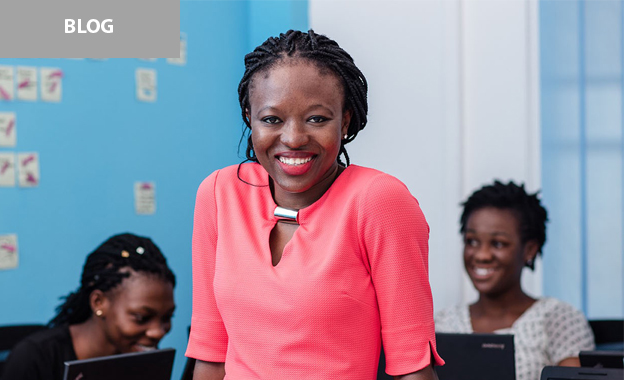 A growing number of African women are building unique, high impact businesses and are shaking up the pan-African and global tech world. "The next Mark Zuckerberg can be a twelve year old Ghanaian girl."
Technology is literally everywhere nowadays, thanks to emerging developments like mobile money, mHealth (mobile health) and e-commerce. Thankfully, being a women in technology is also becoming less of a stigma and a growing number of African pioneering female entrepreneurs start a successful career in the tech industry and make a real impact, through their businesses, their innovation, their products and services.
Half of world's population not represented
Joanitah Nalubega (29) from Uganda, for example, co-founded DrugDash, a mobile and web system that supports drug supply chain managers in Ugandan health centres with real time data on medicine consumption, demand and supply in order to curb drug stock-outs, redistribute excess drugs from places of surplus to those of scarcity to prevent expiry and allow for accurate planning of resources.
The Industrial Chemist also works together with Afrigal Tech, a team of young women, to design and develop an alternative and mobile diagnostics tool for sickle cell Anemia. "No industry can effectively transform life for the better when half of the world's population is not adequately represented in the working force", the tech entrepreneur states.
Avoidable deaths for women and children
In the past, the near absence of women voices at the drawing board in the technology industry had already some pervasive effects, according to the American research "Unlocking the Clubhouse". A predominantly male group of engineers, for example, tailored the first generation of automotive airbags to adult male bodies, resulting in avoidable deaths for women and children.
While women are making strides in the technology field now more than ever before, they unfortunately are still strongly underrepresented in the tech workforce. In the European Union, for example, on average women were just 32.2% of those employed in high-tech manufacturing and knowledge-intensive high-tech services in 2016, according to Eurostat. And in Sub-Saharan Africa, only 30,4% of professionals in the sciences is a woman, according to the UNESCO Institute for Statistics.
Girls don't build rockets
"Social conditioning starts early as still many girls are made to believe that technology is only for boys", 35-year-old Ghanaian tech entrepreneur Regina Honu states who experienced this at first-hand. "When I was in high school, I watched the movie Rocket Man where a man was able to fly with a rocket on his back. As I was already very passionate about tech, I designed a prototype of the rocket and proudly showed it to my physics teacher. However, he disapproved my action and told me that girls don't build rockets but end up in the kitchen. So I shelved my rocket building aspirations", the female techie tells.
While growing older, Honu decided to listen no longer to people who told her what she could or couldn't do only because she's a woman and she graduated as one of the top software developers in her class in Computer Science. In 2012, Honu founded her own software development powerhouse Soronko Solutions that now builds corporate websites and e-commerce portals for over 30 businesses in Accra. She also started to encourage young women to pursue a career in technology by founding "Tech Needs Girls," that teaches girls from 6 to 18 years how to code and develop mobile and web applications. The program has trained already over 5,000 women and girls in Ghana and 685 girls in Burkina Faso.
First coding academy in West Africa
Since the trainings were on temporarily locations where computers were only brought for the training, it was difficult for the girls to continue to learn on their own without access to devices. This made Honu decide to found the Soronko Academy in Accra, which is the first coding and human centred design academy in West Africa.
"I wish to see more African women creating innovations that will not only be used by Africans but the whole world", Honu concludes who adds that therefore she wants to change the misperception that women and girls wouldn't have the brain or strength to work in those industries. "I truly believe that the next Mark Zuckerberg can be a twelve year old Ghanaian girl."