The Shiriki Hub – a daily dose of mobile connectivity for rural Africa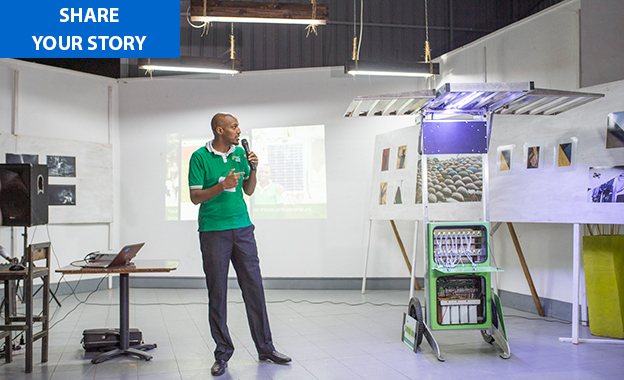 A familiar sight in rural and semi urban parts of Uganda and Rwanda - villagers with mobile phones huddle around a kiosk with solar panels, charging their devices at low cost while accessing the net. The Shiriki Hub is a powerful mobile charging and access solution that has become very popular in a short time. Henri Nyakarundi, founder of African Renewable Energy Distributor (ARED), explains why the hub has a great future.
The Shiriki Hub a nominee for the Innovation Prize for Africa 2018, is a mobile, solar-powered kiosk with large capacity batteries, Internet of things (IoT) sensors and a custom designed router. To people in rural areas that have no grid access and cannot afford permanent access to the net, hooking up with a Shiriki Hub is an affordable to stay connected to the online world. The convenient, low-cost solution to charge phones has entered the next stage of business development. ARED is rolling out its concept in a franchise model, giving entrepreneurs the opportunity to run their own phone-recharging businesses.
Next-generation hub
After ARED had launched the first prototype four years ago, the start-up business has developed a next-generation Shiriki Hub. The revamped mobile solar kiosk offers charging and virtual top-up services for mobile phones as well as a Bluetooth printer, bigger solar panel capacity, speakers and wifi. Charging and using the wifi facilities here is relatively cheap – depending on how long you wish to use the services. Meanwhile, the kiosks are rapidly becoming a popular gathering venue, as each kiosk has stored digital content on board – such as music, news, and information on health and education – which passers-by can access for free.
Part of the digital revolution
As founder Henri Nyakarundi explains, the new kiosks mainly serve low-income Africans. "We want to cater to those people and give them the opportunity to also be part of this digital revolution without having to break their pockets.
The business case for the Shiriki Hub is getting better over time. ARED makes money from advertising on the mobile interface people use to access the internet, and by providing a platform for businesses to conduct surveys. Also, operators pay a fee to operate a kiosk under a micro-franchising model. Another source of income may be around the corner, as the Shiriki Hub has proven to be a solution for temporal settlements, such as refugee camps. NGO's have shown their interest in operating Hubs.
High expectations
Henri Nyakarundi and his ARED staff have high expectations of the future. As Henri explains: "We currently have 55 smart hubs, operating across two countries Uganda and Rwanda in rural, semi urban areas and in some refugee camps. We are working on three more markets for 2019, Kenya, Nigeria and Senegal. Bringing the Shiriki Hub to these and other African countries is our next target."
In these countries, ARED offers a chance to create a micro business for people. "It is an opportunity for people to start a new life as a kiosk operator. We all know how unemployment among the youth is a huge problem in Africa, especially among women and people with disabilities."
Nyakarundi is optimistic about the business case for the hub solution. "As ARED, we build smart distribution networks and include offline/online connectivity solutions for rural areas, semi urban and urban areas and even refugee camps." One particular spin-off of the Hub is becoming more important, Henri explains. "We also license our WIFI and IOT technology to companies that have an existing network of kiosks. We provide banks and telecom companies that want to upgrade their network with a connectivity solution that is more efficient and offers better monitoring."
Funding growth
There is a huge demand, in many African countries, but that is not our biggest worry." What is? "It is funding growth. Unfortunately, getting access to funding for African entrepreneurs is extremely hard. Also scaling up and technology development is really expensive. We are looking for more partners, specifically NGOs that work in refugee camps all over Africa. Also, we would like to partner with telecom companies. We are also looking for partnerships in those countries that want to franchise or license our technology and business model."