Aman Tokyo – an elevated sanctuary
In a large and vibrant business city like Tokyo, it can be difficult to find a quiet place. With that idea in mind, Aman Hotel Group created Aman Tokyo, an elevated business travel sanctuary in the heart of the city.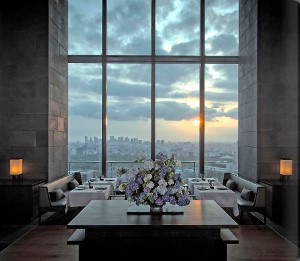 Aman Tokyo opened it's doors in December 2014, occupies the top six floors (33 to 38) of the recently-built Otemachi Tower. In this hotel, at 200 metres above street level, the city's hustle and bustle is kept at a distance. Still, the hotel is conveniently located in the prestigious financial district of Otemachi.
Aman Tokyo is relatively modest in size, as it only offers 84 rooms and suites, each with panoramic city views. It boasts a peaceful inner garden and a serene Aman Spa and swimming pool. The hotel offers beautiful views of the Imperial Palace Gardens and surrounding landmarks, including Mount Fuji in the distance.
The looks of the hotel are a result of the mix of traditional Japanese design with contemporary flair. The reception holds a 30 metres high architectural feature resembling the interior of a Japanese paper lantern, which has been created with layers of textured Washi paper.

The hotel has ample lunch and dining options, with The Cafe by Aman offering outdoor forest view seating, The Lounge by Aman, a great venue for a drink or snack and The Restaurant by Aman, serving gastronomic fine dining based on Mediterranean cuisine. The hotel is home to a Cigar Lounge, with a built in humidor, and a Resident's Library.

Image by Aman Tokyo