Grand reopening of Ritz Paris
After four years of extensive refurbishment works, the Hotel Ritz Paris has finally reopened. Paris' most exclusive hotel now features 71 rooms and a further 71 suites, as well as an indoor swimming pool, Turkish baths and sauna, two fitness rooms.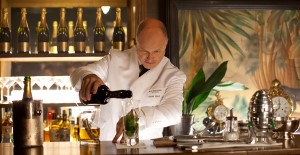 The Ritz Paris originally opened in June 1898, and closed for refurbishment in August 2012. The works in the hotel over the past four years included building a tunnel under the Place Vendome to allow guests to discreetly enter the hotel from the parking garage. As part of the refurbishment of the rooms, original furniture and masterpieces have been restored. Rooms at the hotel that is a member of the Leading Hotels of the World start from €1,000 per night.
The hotel was founded by the Swiss hotelier, César Ritz, in collaboration with the chef Auguste Escoffier. The new hotel was constructed behind the façade of an 18th-century town house, overlooking one of Paris's most beautiful squares. It was reportedly the first hotel in Europe to provide a bathroom en suite, a telephone and electricity for each room.
Further reading on businesstraveller.com
Image by the Ritz Paris