Hyatt Regency's great new rooftop bar in Bangkok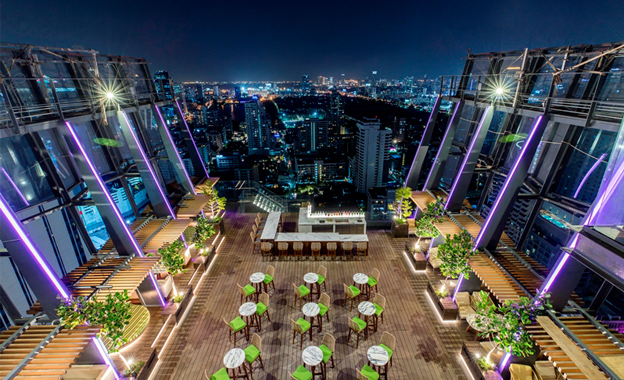 Bangkok has a new, large rooftop bar. At the three top floors of the new Hyatt Regency Bangkok, Japanese architecture firm Super Potato created a collection of cool, intimate spaces – an attraction to Bangkok's high-end nightlife.
The Hyatt Regency Bangkok's new Spectrum Lounge & Bar offers a plush gathering space with marble floors and an open kitchen on the 29th floor, surrounded by earthy wooden walls. The living room has deep, cushioned chairs and wooden tables spread out over a velvety blue carpet.
TravelDailyNews reports that on levels 30 and 31, an alfresco terrace offers a a large open deck with seats for two and alcoves framed by verdant trees with huge daybeds and private tables. At the lounge & bar, a selection of premium tapas is served. Craft cocktails, wine, and a comprehensive beer selection make up the drink menu.
Further reading on: traveldailynews.asia