Doing business in the United Kingdom: Now's the time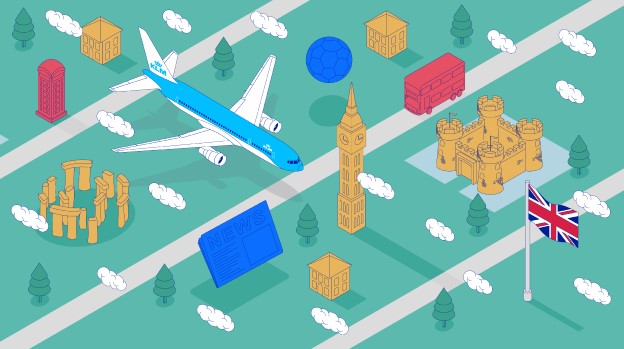 It's close to home and Dutch companies are welcomed with open arms. The United Kingdom is a logical expansion market for good reason. And if you're worried about Brexit, rest assured – it's no longer an obstacle to doing business.
The United Kingdom is the world's sixth largest economy, it has sixty million inhabitants, and most of us can speak its native language. In short, there are plenty of reasons for Dutch entrepreneurs to expand into the UK. An additional advantage is that securing a foothold on British soil can be a stepping stone to doing business in the United States, in part because many US multinationals – including Coca-Cola, Google, Facebook and Amazon – have their European headquarters in the UK.
Britannia's rules
The UK has a hospitable business culture supported by a well-run legal system. "Once they've established themselves in the UK, foreign companies are treated on the same footing as British companies," says Irma van Dijk. "The same rules apply, in other words." Van Dijk is UK country manager for TRANSFER and oversees its London office. TRANSFER helps companies with exports and supports them in growing their sales abroad. "I've been with TRANSFER for about 20 years, including a stint in Germany. But I've spent the past 17 years living and working in the UK."
"The UK has been at the forefront internationally ever since COP26, the 2021 United Nations Climate Change Conference, which was held in Glasgow"
Irma van Dijk, UK country manager for TRANSFER
At the forefront
Dutch expertise is welcomed with open arms in the UK, for example in the field of sustainability. "The UK has been at the forefront internationally ever since COP26, the 2021 United Nations Climate Change Conference, which was held in Glasgow. It's a topic that spans a wide range of sectors in which the Netherlands excels, such as construction, agriculture, maritime and transport. In the latter category, for example, there's our expertise in bicycles, cycling infrastructure and scooter-sharing systems."
Healthcare
Dutch agriculture has also been well represented historically in the UK. A quarter of the vegetables consumed by the British come from the Netherlands. Dutch maritime expertise receives a warm welcome not only for its sustainability solutions but also for its high-tech logistics, for example port computer systems. The final sector Van Dijk mentions is healthcare. The UK government is planning to build multiple hospitals. "That offers Dutch companies plenty of opportunities, ranging from construction to the delivery of medical equipment. Government investment in the pharmaceutical industry is also creating opportunities for Dutch businesses."
Four things to avoid when doing business with the British
Don't be too pushy. Don't try to force a deal. Britons don't appreciate being badgered.
The British are masters of self-deprecation. Laugh at their jokes, but don't commit the error of making fun of them yourself.
The British invented the concept of the "gentleman". They tend to be more polite and courteous than the Dutch. Being rude – not only to your business partner but also to others – is a major faux pas.
Don't talk about politics or the royal family. Unless it's relevant for business, for example in a practical sense, such as opening hours on the day of King Charles III's coronation.
Success as partners
Once a Dutch business decides to venture across the North Sea, everything hinges on building relationships with potential customers. Many businesses do that through a distributor, says Van Dijk. "Or through a partner, such as TRANSFER, acting as a point of sale. A local contact is very much appreciated." In the communication itself, it's important to highlight successes, Van Dijk stresses. "Clarify how your companies complement each other." References are also crucial. "You need to show what you've accomplished so far in cooperation with notable international customers and partners."
"The British appreciate honesty in their business partners"
Irma van Dijk, UK country manager for TRANSFER
Honesty
Once a Dutch company has made contact with a British firm, the key is to build a good relationship. This calls for a lot of patience, says Van Dijk. "Businesses need to invest a lot in their communication and show they're reliable." They can do so by being easily accessible, for example, and by presenting solid, well-argued businesses cases. "The British appreciate honesty in their business partners. So make sure you have your affairs in order and that you're able to show proof of that and can back up your arguments."
Virgil van Dijk
It's worth noting that you can build a good relationship in settings other than the office. The pub is a great place to work on solidifying a business partnership. Conversations are usually a bit more informal there, although the British are less likely to enquire about a person's private life. The news is a common topic of conversation. "It pays to study current affairs ahead of time, including the local news, for example through the BBC."
Sport is another great icebreaker. Rugby and cricket are popular, along with football. "Dutch football players are obviously a wonderful topic of conversation," says Van Dijk. "To this day, I'm grateful to Virgil van Dijk for playing for Liverpool," she laughs. "Since he joined the club, hardly anyone asks me to spell my name."
Five times more cost-effective business trips with bluebiz
Save on all fronts: each booking with KLM,

Air France

,

Delta Air Lines

and/or

China Eastern

will earn you

blue credits

, which you can then use to buy tickets or fly in greater comfort.
Sustainability:

blue credits

can also be used to contribute to reforestation projects.
Priority: when boarding, Priority and Business Class passengers are allowed to board first. Bluebiz passengers are next. In the event of any flight disruptions, bluebiz passengers are also awarded rebooking priority.
Flexibility: bluebiz members can change the name on a ticket free of charge.
Recognition: business travellers with bluebiz bookings are recognised and acknowledged by staff at the airport and on board.
Don't jump the queue
As in any international business relationship, there's always the danger of slipping up, for example referring to the country as England instead of the United Kingdom, or calling Welsh a dialect. "It really is its own distinct language," explains Van Dijk. Another caveat is to go along with British customs. "The British are used to queuing for everything, including at the bus stop and in the pub. Respect that and do the same."
It's also a good idea to bear geographical differences in mind. The north, for example, is somewhat more relaxed and friendlier than London. There are also practical differences, says Van Dijk. "Say you have to drive to Cornwall. You need to be aware of how far away it is from London and that you'll be driving on narrow, minor roads. So visiting customers there will take a lot of time."
"You really do need to go the distance. It takes time to set up a sound strategy and to build rapport"
Irma van Dijk, UK country manager for TRANSFER
Could be
In the 17 years that Van Dijk has been working in the UK, she has mentored numerous Dutch businesses. Those whose UK venture fell short of expectations were generally entrepreneurs who lacked the necessary patience. "You really do need to go the distance. It takes time to set up a sound strategy and to build rapport." Language can be a hurdle, even though most Dutch people are fairly fluent in English. "The British are good at thinking in terms of options: that could be possible, that could work, we could have a look. In the Netherlands, that kind of language means that you've practically closed the deal, but for Britons it's merely a polite promise that they'll think about it."
Brexit
A final question: should Brexit be another factor when deciding whether or not to do business in the UK? "Import and export procedures have changed, of course. For example, UK import rules may differ from the EU's rules. Export documentation is also more voluminous now, and checks on accuracy and completeness are stricter. Before Brexit, UK Customs required a one-page document for each cow or horse being imported. That's now ballooned to 15." Dutch entrepreneurs should be well aware of this, but they needn't be put off by it, says Van Dijk. "More and more of these procedures are being digitised and the furore over Brexit has subsided somewhat, with the situation becoming more stable. Dutch companies have already solved most of the complex problems, so now's the time to start doing business in the UK."
"Our management style is far too direct"
In 2013, Dutch twins Raissa and Joyce de Haas moved to London to pursue a second master's degree. Their thesis, which also served as their business plan, focused on innovative tonic waters and mixed drinks. It won the award for best thesis of the year and served as a prelude to their company Double Dutch, based in London.
Joyce: "The award allowed us to finance our first batch of mixed drinks. It also covered office space and legal advice for a year." Raissa: "We started our business in late 2015. Our product and processes weren't quite ready, but we needed the revenue. It wasn't ideal, of course, but the upside was that customers were very keen to brainstorm with us about flavours and the label on the bottles. We got some excellent feedback. British people really like helping young people with their input." Joyce: "Another typically British trait is that they don't appreciate directness." Raissa: "Feedback has to be packed in a compliment sandwich: you start with a compliment, then talk about improvement points, and end with another compliment." Joyce, laughing: "Our management style is far too direct, so we appointed a British general manager who's really good at the compliment sandwich. Most of our employees are British too. We had quite a few employees from the continent before Brexit, but many of them have returned to their native country." Raissa: "Not only because of Brexit but also because of Covid." Joyce: "After Brexit, we set up a subsidiary in Belgium in addition to our London headquarters, for exports to Europe. We export to the US, the Middle East is a growing market for us, and we've just started doing business in Asia. We have distributors for this with exclusive distribution rights in a given country. They work with our marketing team to serve the market there. In the UK, our home market, we do everything ourselves."