KLM wins APEX World Class Award 2024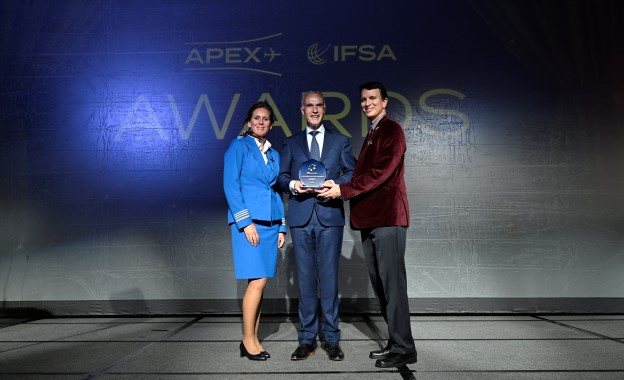 For the third consecutive year, KLM has again won the APEX World Class Award. This special recognition is awarded by customers and the industry for performance in relation to themes including safety, customer well-being and sustainability. The prestigious award is presented annually by the international Airline Passenger Experience Association (APEX), which evaluates passenger perceptions. Winners are chosen on the basis of worldwide audits and consumer reviews, and are required to be awarded five-star reviews at the very least. In addition to winning the World Class Award, KLM was also recognised as Best-in-Class for Sustainability.
The World Class Award reflects service, guest experiences, safety and sustainability performance. KLM aims to shine in relation to all these aspects, on the ground, in its lounges and of course on board.
"We're incredibly proud to have won the APEX World Class Award for the third year in a row. We prioritise carrying our passengers safely and in comfort, while also focusing on making flying cleaner, quieter and more fuel-efficient. To this end, we invest heavily in vigorous fleet renewal and purchasing sustainable fuel. The award serves as fitting recognition for everyone at KLM who makes every effort, every day to serve our customers."
Barry ter Voert, CXO & EVP Business Development
APEX
APEX is the biggest international airline association when it comes to passenger perceptions and has developed into a renowned research and rating organisation.
This year's World Class Award was dished out to eight airlines. Alongside KLM, this included Emirates, Singapore Airlines, Qatar Airways, Japan Airlines, Xiamen Airlines and Saudia.