L'Oréal China and Tmall team up to sell beauty products to China's men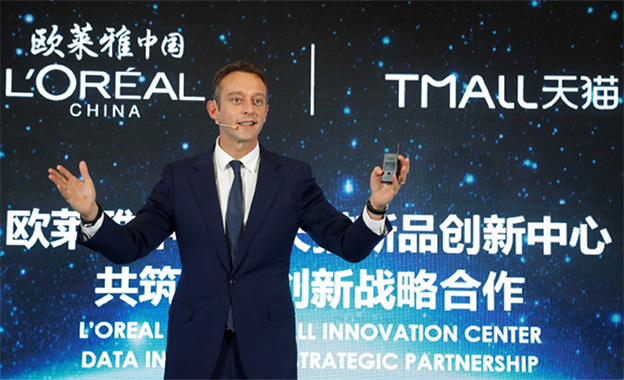 In China, the male grooming market is booming. Men are buying a lot more beauty products and it is clear that striving for the perfect image is no longer the exclusive privilege of women. To tap into this huge market, L'Oréal China has joined forces with Alibaba's Tmall. The e-commerce company is supporting L'Oréal China's sales pitch to the Chinese man with data-driven consumer analytics.
Beauty products have gradually become an important way for men in China to gain self-confidence and express themselves. It was L'Oréal, the world's largest cosmetics group, that, in collaboration with is new partner Tmall Innovation Center (TMIC), found that there is a big and growing market to conquer. According to the whitepaper co-developed by TMIC and L'Oréal China, online sales of men's grooming products have increased by more than 50% in each of the past two years. According to other research (by OC&C), the market is expected to boom in value to nearly US$3 billion by 2022, an annual growth rate of around 6 per cent over the next five years.
Flagship store on Tmall
To reach the new and growing consumer group, L'Oréal China launched a flagship store on Tmall e-commerce site. There, shoppers can order its China brand products, such as House99, a new range of luxury male grooming goods branded by former football superstar David Beckham. The brand is clearly cashing in on Beckham's popularity in China.
L'Oréal will base further steps in China's male (and female) beauty products market ons TMIC's online data research. In the recently published TMIC/L'Oréal whitepaper, researchers have divided Chinese men into five distinct personality types: Fans of Professionality, Yappies, Beautiful Faces, Hair Styling Lovers and Traditional Men. "These precise big-data based consumer insights show that China's men's grooming market is entering a stage of segmentation. More and more male consumers are not limiting their grooming habits to basic facial care, but have begun to look forward to more refined, professional and high-end products", the beauty enterprise concluded recently.
Conservative buying
What else can one learn about Chinese men's beauty product preferences? An important finding is that they are still somewhat conservative in how they buy their products. Male consumers still prefer to visit stores to receive recommendations from sales specialists and try products. Only two in five Chinese male respondents say they prefer e-commerce platforms over physical stores.
Therefore, L'Oréal China will not rely on e-commerce only. It will open 'Stylish Man Research Institute' pop-up stores: exclusive experiential settings for the five consumer groups that match their unique characters. The store creates immersive experiences for the full consumer spectrum, helping people precisely and efficiently find their desired grooming products.
Driven by big data
At the launch of the cooperation between L'Oréal China and Tmall's researchers, Stephane Rinderknech, CEO of L'Oréal China, said he is excited to use Tmall's "consumer insight that is driven by big data, reconstructing a new and innovative value chain of product, marketing and channels, helping consumers make more personalized choices and further driving dynamic business growth." "We are confident that we will continue to ride the digital revolution wave, truly innovating in and for China, meeting the needs of consumer's continued growth and their growing desire for beauty diversity."