A new Airbus A320 on the Caribbean regional network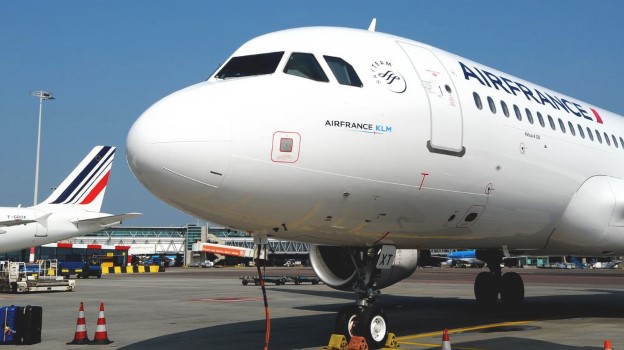 On 14 February 2016 at Pointe à Pitre airport in Guadeloupe, Air France welcomed a new Airbus A320* on its Caribbean regional network.
A new Airbus A320 on the Caribbean regional network
This aircraft, equipped with 168 seats (12 in the Business cabin and 156 in Economy), offers ten additional seats in the Economy cabin, representing a 6% increase in capacity.
A redesigned seat for additional comfort
In the same way as on its European medium-haul network, Air France has introduced a completely redesigned seat for all passengers on its Caribbean regional network. Covered in high-quality leather in all cabins, it offers optimum comfort, ideal for working, resting or eating prior to arrival at destination.

As soon as they board, customers can enjoy a completely redesigned cabin bathed in warm lighting and colours. The colour scheme has also been revised in an elegant way. The dark navy blue and very light grey, enhanced with touches of red, provide a cosy atmosphere in all cabins.

The back of the new seat, which reclines by 20 degrees, has been greatly enhanced to totally isolate it from the row of seats behind. All customers can therefore travel in total tranquility. The central armrests, which are fully retractable, merge into the seat. An adjustable headrest enables everyone to easily find their ideal comfort position. There is also a personal tray table, peg and glass holder in this totally ergonomic and spacious seat.
Business; priority, space and exclusivity
Customers travelling in the Business cabin now enjoy more personal space in a cabin with only four seats across. The middle seat is always left free to ensure optimum peace and comfort. A soft cushion is placed on each seat, and the adjustable headrest is coated with a red leather headrest designed exclusively for Air France. With newspapers, oshibori, gourmet catering, etc., the service is made-to-measure.

Business customers can take two pieces of baggage into the cabin, along with an accessory for a total weight of 18 kg. In the hold, they can check in two bags of 32 kilos each. For enhanced privacy, a curtain is closed during the flight, which isolates the Business cabin from the rest of the aircraft. Located at the front of the aircraft, the seats in this cabin enable passengers to embark and disembark first.
Economy; on board,
Air France

quality for all

With a leather seat and exclusive new headrest, the Economy cabin has also been redesigned. All customers can take a free piece of cabin baggage (55cm x 35cm x 25cm) and an accessory for a total weight of 12 kilos. They can also check in one piece of hold baggage weighing up to 23 kilos at no extra cost.
Air France

's regional network in the Caribbean

On the regional network, Air France flies between Pointe à Pitre, Fort de France, Cayenne, Port au Prince and Miami. Two Airbus aircraft and crews dedicated to this network operate more than 30 weekly flights between these regional economic centers. Since 2015, Air France has been offering seven new destinations from Pointe à Pitre: Saint Lucia, San Juan, Santo Domingo, St. Maarten Grand Case, St. Maarten Juliana, St. Barthelemy and Dominica, operated on a codeshare basis with Air Antilles.

* The new aircraft replaces one of the two A320 which operate on the Caribbean regional network.