Use WhatsApp to rebook your cancelled flight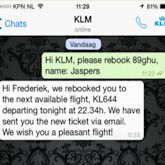 Having the misfortune of your flight being cancelled as a result of a blizzard while transferring at Amsterdam Airport Schiphol? No worries: just rebook your flight using WhatsApp.
How it works
As from now, KLM offers a new innovative service to rebook a cancelled flight via WhatsApp. This service is offered to you at the moment you are in transfer at Amsterdam Airport Schiphol and you have the bad luck of a flight cancellation due to a severe flight disruption such as an ash cloud, earthquake or a closed airspace. In that case, all you have to do is go to Transfer Centre 6: on a large screen next to the transfer desk a dedicated WhatsApp number will be displayed. You can send us your name and booking code via WhatsApp in order to be rebooked on the next available flight. You can print your new boarding pass directly at a self-service check-in machine. During such unforeseen circumstances, it is important to us that your travel experience is still a smooth one. Thanks to this new service, you will spend less time queuing in front of the transfer desk.