Air France wins the "Best Entertainment in Europe" award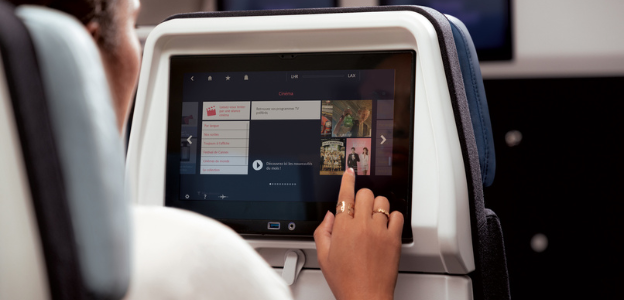 On 8 June 2022, at the 2022 APEX Passenger Choice Awards ceremony, Air France won the "Best Entertainment in Europe" award. This award recognizes the quality and diversity of the entertainment offer on board its long-haul flights.
In all its long-haul cabins, Air France offers 1,000 hours of entertainment on high definition 33,000 screens. The airline is gradually rolling out a new touch-sensitive graphic interface, accessible in 12 languages and allowing passengers to choose their programme easily. More than 350 films are available, including a large selection of French movies, as well as TV series, documentaries, music, podcasts, destination guides, an interactive map and an on-board camera to watch the take-off and landing from your seat. A specific well-being section also allows young and old to learn about meditation and seated yoga during the flight. There is also a tailor-made offer for children.
In 2021, Air France received the highest distinction - the Diamond Award - in the APEX health safety powered by simplifying ranking, which rewards the strictest measures implemented by airlines in the field of health and safety. Following a complete audit of the Air France Protect programme, which covers all the company's health measures, the APEX award recognized Air France's commitment to making the health and safety of its customers and staff a top priority.
The Airline Passenger Experience Association (APEX) is a leading research and evaluation organisation in the field of customer travel experience. Its network includes the world's leading airlines, airports, alliances, suppliers and associated companies committed to improving the air travel experience. The APEX Passenger Choice Awards recognise airlines for their in-flight products and services. Customers on more than one million flights on 600 airlines worldwide were given the opportunity to anonymously rate five sub-categories of travel: seat comfort, cabin service, food and drink, entertainment and Wi-Fi via an app.