Intercontinental Edinburgh: The George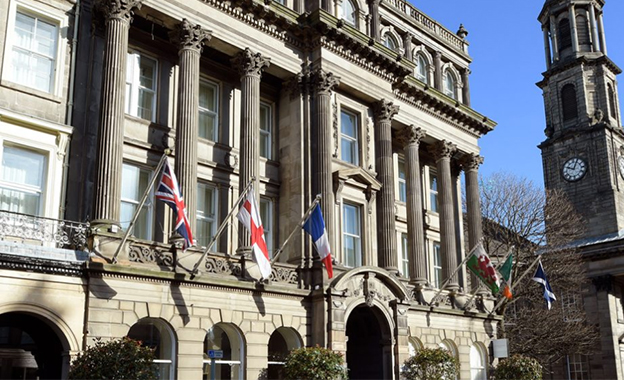 After an extensive renovation, the Principal Edinburgh George Street is now renamed 'Intercontinental Edinburgh – The George'. The hotel, with its 240 rooms, is made up of five townhouses dating back to the 1780s.
BusinessTraveller reports that The George, in Edinburgh's George Street is the third Intercontinental hotel in the UK, with the UK – Intercontinental London – Park Lane and Intercontinental London – The O2.
The refurbishment has seen the lobby shift and introduce a doorman, the rooms have been redesigned and have had air conditioning added.
The Printing Press Bar & Kitchen was once home to acclaimed novelist Susan Ferrier (an equal of Jane Austen, according to Sir Walter Scott). Burr & Co. is a lovely coffee shop with a devoted local following. The hotel also boasts the magnificent King's Hall – a firm favourite for weddings and celebration – as well as seven additional meeting and event rooms and a newly equipped gym.
The InterContinental Hotel Group owned The George before; 14 years ago the group sold the property to the Principal Hotel Company, that decided to change the hotel's name. The George is now The George again.
Further reading on: businesstraveller.com