San Diego now offers a Green Terminal
San Diego International Airport's new terminal is now the first 'green terminal' in the world. The New Terminal 2 West is set to receive the LEED Platinum status, which means that the new building's upgraded structure and its supporting infrastructure meet the highest attainable standards in eco-friendly, sustainable architecture and construction.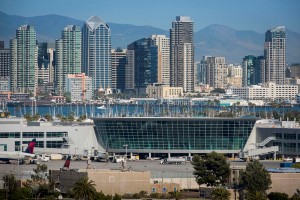 The new terminal is fitted with photovoltaic panels to provide one-eighth of the terminal's energy, plus water conservation systems. The terminal also uses very little energy, as natural light illuminate's its interior and reflective rooftops limit the amount of trappable heat - thereby lowering the need for air conditioning.
Outside, preconditioned air units reduce the need for ground or auxiliary power units for the aircraft using the terminal. Also, eco-friendly adhesives, paints and sealants were used during the construction phase.
The new terminal offers the following features:
10 new gates to reduce terminal congestion and provide expanded, more comfortable passenger waiting areas; seats are equipped with built-in cup holders, electrical outlets and USB ports
enhanced curbside check-in, allowing passengers to print boarding passes, check baggage and view gate information at one of 27 easy-to-use curbside kiosks or 32 airline/Skycap counter check-in positions before entering the terminal
new security checkpoint with more security lanes to improve flow of passengers through the terminal, keeping lines and security wait times down
new 25,000 square-foot ticket lobby, with 32 airline counter check-in positions and 10 self-service kiosks