Take me to the Hilton – now in Armenia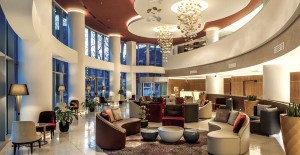 Hilton recently made its entry into Armenia, a country that shows continuous economic growth. The hotel chain opened its first 'DoubleTree by Hilton' hotel in the city centre of Yerevan, the capitol of Armenia.
The DoubleTree by Hilton Yerevan City Centre, is the company's first hotel in Armenia. The 176 guest room hotel is located in the business district of Yerevan, close to international embassies.
The hotel is also close to historical Republic Square, as well as museums, shopping and entertainment destinations. The international airport of Yerevan is 11 kilometres from the hotel. The brand new hotel offers multifunctional meeting facilities to host up to 700 delegates. The new 'Gold' restaurant offers a menu of European and Italian specialities. The hotel also features spa and gym facilities, including a treatment room, relaxing zone, hammam and a Finnish sauna.
DoubleTree by Hilton Yerevan City Centre is the eleventh hotel already operating in the Caucasus region, which includes Armenia, Azerbaijan, Georgia, Iran, Turkey and Russia.
Image by DoubleTree by Hilton