Busy in Hong Kong? Take a nap!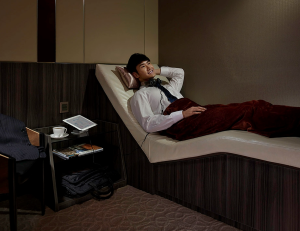 If you find yourself out of energy between meetings in Hong Kong, go to one of the three newly opened Nap Lounges. In the Central, Wan Chai and Tsim Sha Tsui areas of Kowloon, you can book your private nap place in 15-minute increments.
The nap spots of these Nap Lounges look a lot like First and Business Class cabins. In First Class, on-call refreshments are delivered to your bed. The luxury recliner seats come with mood lighting, calming scents and soporific music. Staff will offer you a pair of slippers, tooth brush and paste and a quiet time far away from the HK hustle and bustle.
The Nap Lounges also offer some relax time while scanning the day's papers and magazines, using the free WiFi and business services like charging, printing, copying and scanning.
Further reading on naplounge.com.hk
Image by Nap Lounges