New Michelin-starred menus to enjoy Air France's long-haul La Première and Business cabins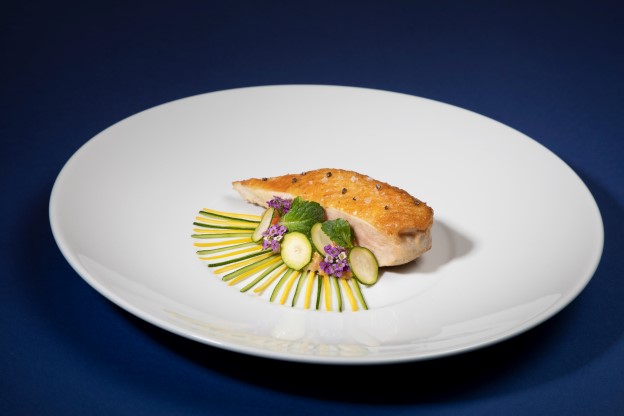 From July to October 2022, Air France is unveiling new Michelin-starred menus created by French chefs Michel Roth and Anne-Sophie Pic in its long-haul La Première and Business cabins on departure from Paris. Working with carefully selected seasonal produce, vegetarian products, red and white meat and fish, the chefs have created refined dishes for the airline's customers to enjoy over the coming months. In this way, Air France intends to continue to offer its customers exceptional French cuisine that is more sustainable and responsible.
Michel Roth in the La Première cabin
Michelin-starred chef Michel Roth, Bocuse d'or and Meilleur Ouvrier de France, has created a new series of resolutely French, gourmet and refined dishes for customers in the La Première cabin. The chef has created an appetizer, a starter and eight dishes that will gradually be unveiled on the menu of the airline's most exclusive cabin:
Caviar Sturia accompanied by a pancake with smoked fish cream (appetizer)
Lobster medallion, green asparagus and raspberry vinaigrette (starter)
Tender beef, pan-seared foie gras with a truffle sauce, stir-fried asparagus and porcini mushrooms;
Oven-cooked verbena veal, vegetable and morel mushrooms;
Chicken supreme with rosemary, fine sweet pepper tart and stuffed zucchini;
Chicken supreme with olives and black truffles, poivrade artichokes and macaroni gratin;
Quinoa with candied lemon, summer vegetables and basil creme;
Truffled polenta, green vegetables, mint pea coulis with carrot jus;
Fillet of brill in a shellfish jus accompanied by simmered green vegetables and mussels;
Shrimp in lobster sauce perfumed with tarragon, red rice and baby spinach.
The La Première cabin is available this summer on certain flights to Los Angeles, Miami, New York-JFK, San Francisco, Washington DC (United States), Mexico City (Mexico), Abidjan (Côte d'Ivoire), Johannesburg (South Africa), Dubai (United Arab Emirates) and Sao Paulo (Brazil).
Anne-Sophie Pic's menu in the Business cabin
Air France is continuing its collaboration with triple Michelin-starred chef Anne-Sophie Pic, who this season is creating high-flying menus in the long-haul Business cabin. The chef has concocted eight tasty dishes for optimum enjoyment on board:
Braised beef, potato mousseline, plum chutney and tarragon breadcrumbs;
Roast chicken, spelt risotto, courgettes with green cardamom;
Saithe with seaweed, lovage sauce, Camargue red rice, spinach and fennel compote;
Artichoke barigoule, creamy polenta, smoked vanilla Burrata, tangy tomato coulis;
Poached saithe with curry and coconut milk sauce, black rice;
Beef stew with coffee and sweet onion consommé;
Chicken with tonka bean sauce and creamy polenta with mushrooms ;
Seashell pasta, chard and lemon coulis, lightly smoked goat cheese cream, roasted pumpkin seeds.
A more responsible catering offer
By the end of 2022, the airline is committed to offering 100% French meat, dairy products and eggs, as well as sustainably caught fish, on all its flights from Paris and in all cabins. A vegetarian dish will also be systematically offered and all meals will be prepared entirely in France. The company favours local produce, respecting seasonal produce and encouraging sustainable farming. The kids' and infants' menus will be made exclusively from organically grown produce.
As part of the fight against food waste, Air France is this year making it possible to pre-select a hot meal in the Business cabin before departure. This service combines the guarantee of availability of the customer's choice with fairer consumption. The airline is also committed to recycling and eliminating 90% of single-use plastic on board its aircraft by early 2023. Finally, when certain items can no longer be used on board, they are donated to charity.
Sustainable catering is part of Air France's roadmap for more responsible travel. The airline has developed its initiatives under the Air France ACT label. All these actions are detailed online at airfranceact.airfrance.com.
About Michel Roth
Michel Roth is one of the most successful chefs in France with one of the most prestigious records in French gastronomy: Bocuse d'or and Meilleur ouvrier de France in 1991, he was named Chevalier de la Légion d'Honneur in 2006, he has been awarded several Michelin stars and in 2016 achieved the coveted title of "Romand de l'année" with a score of 18/20 in Gault et Millau. Throughout his career, Michel Roth has worked alongside the greatest French chefs and in prestigious establishments such as L'Espadon at the famous Ritz on Place Vendôme and the Grand Hôtel Président Wilson in Geneva. With his technical skills, culinary traditions and modern style, Michel Roth is a passionate chef and a perfectionist, whose one desire is to delight all those who taste his dishes, on the shores of Lake Geneva and on board. In 2020, a new Parisian restaurant, La Table Cachée by Michel Roth, opened in the BHV Marais. Since 2022, the chef has also taken charge of the Baron restaurant at the Château de Ferrieres, in the east of the Paris region.
About Anne-Sophie Pic
After studying management, Anne-Sophie Pic returned to her hometown of Valence, where she decided to devote herself to her true passion – cooking. In 1991, she took over her father's gourmet restaurant, "La Maison Pic", three Michelin stars restaurant. She owns other restaurants making her the most starred female chef in the world with 10 Michelin stars. Anne Sophie Pic's culinary creations are based on three values: respect, flavour and simplicity. In addition to her numerous Michelin stars, these values have won her several awards such as the Veuve Cliquot 2011 and San Pellegrino World's 50 Best Restaurants Awards, which named her the best female chef in the world.