New summer flavours in La Première and Business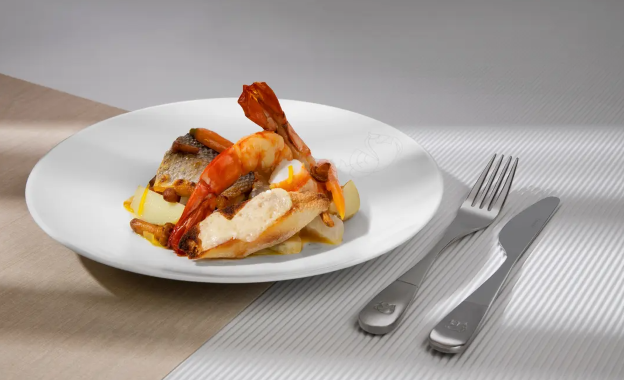 From July to October 2023, Air France is continuing to promote fine French dining with a new series of original dishes. On departure from Paris, in the long-haul La Première and Business cabins, the renowned French Michelin-starred chefs Régis Marcon and, for the first time, Thierry Marx, will be working alongside the Meilleur Ouvrier de France pastry chef Philippe Urraca to create delicious dishes for the airline's customers.
To prepare these menus for our customers in these prestigious cabins, the chefs have worked together with Servair, the world leader in in-flight catering, to create dishes that change with the seasons using fresh, local produce. In a responsible approach, the meat, poultry, dairy products and eggs on each menu are sourced in France, and the fish comes from sustainable fisheries. In addition, vegetarian menus are systematically available in each travel cabin on all the airline's flights.
Thierry Marx takes charge of the Business menus
For the first time, Air France is collaborating with Thierry Marx, a renowned chef with two Michelin stars. This Parisian-born chef is one of the most renowned culinary talents of his generation. He has created unique dishes for Air France customers, inspired by the diversity of France's culinary heritage. His dishes focus above all on plant-based ingredients in a flexitarian approach.
"Just like travelling, cuisine brings people together. These are values that I share with

Air France

for its customers' pleasure," said Thierry Marx.

In total, the chef has created eight dishes, available on board over the next 4 months:
Cream of spelt soup, black olive crumble, sautéed courgettes;
Cod, prawns, saffron rice, piquillo coulis;
Guinea fowl, carrot, butternut purée;
Pork loin, langoustine coulis, cauliflower purée, chanterelles;
Pasta conchiglie, pear, Fourme d'Ambert cheese and walnuts;
Prawns, risoni pasta with squid ink, crunchy vegetables;
Chicken, boulangère potatoes, mushrooms, Jura wine sauce;
Beef chuck, Bordeaux sauce, celery ravioli.
As part of the fight against food waste, Air France is offering its customers travelling in the Business cabin the option of pre-selecting their hot dish up to 24 hours before their flight. This service combines the guarantee of availability of the customer's choice with fairer consumption on board.
Régis Marcon and Philippe Urraca in the La Première cabin
Air France's La Première cabin offers each customer a gourmet dining experience worthy of the finest restaurants. Voted "World's Best First-Class Onboard Catering" at the latest Skytrax World Airline Awards 2023, it now offers menus signed by renowned triple Michelin-starred chef Régis Marcon. Nature continues to inspire this chef, who draws his inspiration from the Ardèche and Auvergne regions to create his dishes. He has concocted eight dishes to be enjoyed over the coming months:
Fillet of beef with cherries, mashed potatoes with smoked salt;
Royale of courgettes with oyster mushrooms and truffle, strawberry tomato coulis;
Pigeon fillet with apricot sauce, lemon bulgur, mushrooms and butternut;
Fillet of sea bass and prawns with chanterelle mushrooms, bouillabaisse style;
Guinea fowl fillet with blueberries, roast potatoes and baby carrots;
Fillet of sea bream with verbena, sautéed baby spinach and chanterelle mushrooms;
Braised veal shank, sage sauce, potato gratin with porcini mushrooms;
Cream of red bean soup with root vegetables.
As for the desserts, pastry chef Philippe Urraca, Meilleur Ouvrier de France and a leading exponent of the French pastry tradition, has devised 4 delicious desserts to choose from on the à la carte menu available on board on a rotating basis:
Délice du sud;
Tea, orange and Kalamansi;
Le méditerranéen;
Le Moka.
In 2023, Air France is working together with a total of seventeen chefs to promote French culinary excellence. These culinary experts offer exceptional dishes on departure from Paris and certain international destinations in the La Première and Business cabins, as well as in the airport lounges in Paris. The only airline to partner with so many Michelin-starred chefs, Air France is reaffirming more than ever its role as an ambassador for fine French dining and expertise throughout the world.