Air France named Europe's leading airline for its Economy Class at the World Travel Awards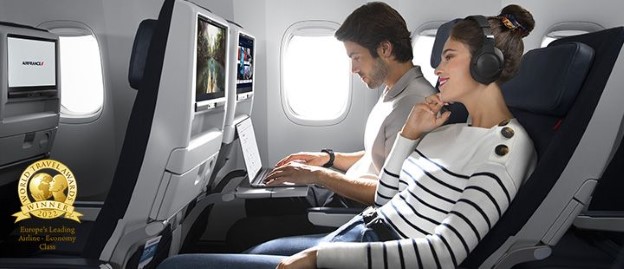 On 1st October 2022 at the 29th World Travel Awards ceremony in Majorca, Air France received the award for Europe's Leading Airline for its long-haul Economy Class.
"This award recognises our continued move upmarket. In the long-haul Economy cabin, we offer our customers seats at the highest industry standards, a rich and varied inflight entertainment system and a French-style catering offer, with champagne for all! On short and medium-haul flights, our new Airbus A220 offers a redesigned cabin interior with more comfortable Economy seats and sweet or savoury snacks and beverages. Air France flights also offer a Wi-Fi connection including a free message pass. But it is above all Air France staff, both on the ground and on board, who make a difference by providing our customers with optimum customer service and who have enabled us to win this award today," said Fabien Pelous, SVP Customer Experience at Air France.
Air France also came second in the "European airline 2022", "La Première" and "Business" categories.
Air France's new long-haul Economy cabin, which is gradually being rolled out on 12 Boeing 777-300s, offers a seat with the highest standards of comfort on the market. On board, each passenger has a 43 cm wide seat, a 119-degree seat recline and 79 cm of legroom. The seat back is ergonomically designed and offers enhanced lateral support. A 13.3-inch 4k High Definition screen with Bluetooth provides over 1,000 hours of on-demand entertainment, including a large and varied selection for young travellers. A USB A port and a Wi-Fi connection including a free message pass are also available,
In terms of onboard dining, Air France is committed to offering a French-style menu with Nutri-Score A or B certification, consisting of a starter, a hot dish, cheese and a dessert. A vegetarian option is also available. By the end of the year, all meals served on board flights departing from Paris will be made from 100% French meat, dairy and egg products, as well as fish from sustainable fisheries. Finally, the menus for kids and infants will be made exclusively from organically sourced products. On short and medium-haul flights, a dining offer is also available in the Economy cabin.
The annual World Travel Awards ceremony is a prestigious event that rewards actors in the travel, tourism and hospitality sectors. The awards, recognised as a mark of excellence within the industry, are based on a wide-ranging vote by customers and tourism industry experts. Over 2.3 million votes were cast for the 2022 awards.