Air France unveils its new La Prairie beauty treatment centre in the New York-JFK lounge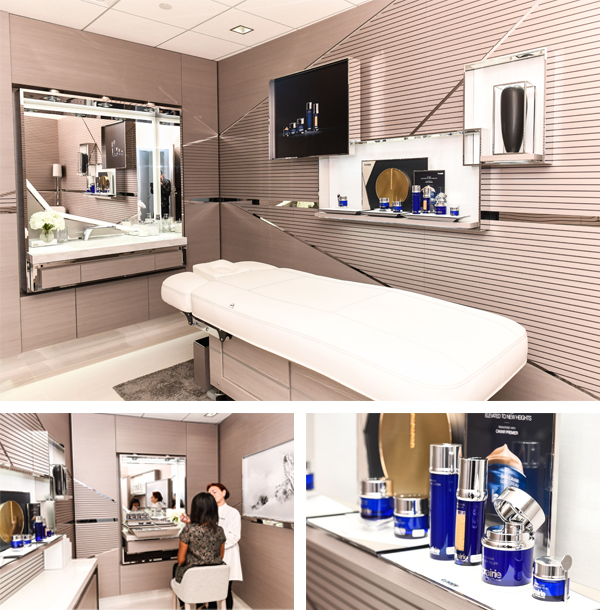 On February 6, 2019, Air France inaugurated its new beauty treatment center in its terminal 1 lounge at New York-JFK airport, in exclusive partnership with luxury beauty and skincare specialist, La Prairie.  After revamping its dining area in December, the Air France lounge has introduced new attentions dedicated to its customers' well-being.
A moment of relaxation and well-being before the flight
This new space spanning 30 sq. m, decorated in La Prairie's emblematic style, is accessible to La Première and Business customers and Flying Blue Platinum and Gold members. It is equipped with two private beauty booths with a massage table for the longer treatments, like in a real beauty institute.
An area dedicated to rapid beauty treatments is also available for customers.
Prior to their flight, customers can now enjoy free of charge a moment of relaxation and well-being in the expert care of La Prairie beauty care professionals and the brand's high-end products. La Prairie beauty experts thus offer a selection of free facial treatments –
Art of Rejuvenation treatment (30 minutes) reserved for La Première customers

Art of Illumination treatment (20 or 30 minutes-option)
Art of Indulgence treatment (20 or 30 minutes-option)
Customers must reserve these treatments with the Air France agents on arrival in the lounge.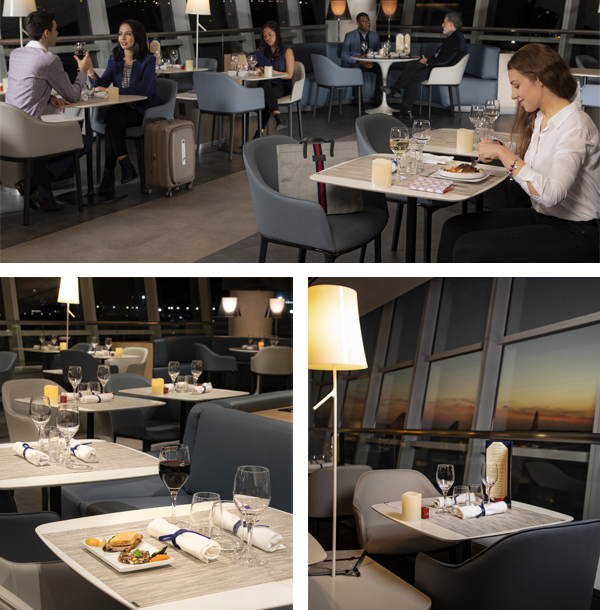 In December 2018, Air France unveiled a completely renovated dining area in its New York-JFK lounge.
Business customers enjoy the Night Service offer in a brand new setting, with a more convivial and contemporary feel, dominated by white and wood tones.
In this area located on the mezzanine, new furniture and imitation leather couches, inspired by a Parisian brasserie, have been custom designed to offer a convivial atmosphere. Blue and grey tones along with atmospheric lighting have been added to create a more intimate atmosphere. The mezzanine floor has also been redesigned, incorporating light and anthracite grey shades. In total, the area is equipped with close to 34 tables for 2, a high table with 6 seats for dining opposite the runways and a round table seating 6.
Night Service – dine in the lounge and sleep on board
This new dining area has been designed to offer customers the Night Service. This service anticipates Business customers' need to enjoy a good night's sleep on night flights between New York and Paris. They can thus enjoy at no extra charge the same gourmet French meal in the airport lounge as the one served on board, with their meal served at their table. Each customer can thus enjoy a full meal comprising a starter, hot dish, cheese, dessert and a wine and Champagnes list.
During the flight, customers can enjoy a good night's sleep in the comfort of the Business class cabin. A quiet, private cabin, with a guarantee of a peaceful night's sleep in a seat that transforms into a lie-flat bed.  Customers with a very healthy appetite can choose to eat again during the flight. 
When they awake, when the French coast looms on the horizon, breakfast is served before landing at Paris-Charles de Gaulle.
Since the launch of the Night Service in 2016, close to 50% of customers travelling in Business class on night flights dine in the lounge.
Flights (in local time) concerned by the Night Service offer -
AF009: leaves New York – JFK at 22:50, arrives at Paris-Charles de Gaulle at 12:00 the next day;
AF011: leaves New York – JFK at 21:30, arrives at Paris-Charles de Gaulle at 10:50 the next day.
Art at the heart of the lounge
Moreover, to mark the brand new design of its lounge in New York, Air France offers its customers art exhibitions all year-round. From January to June 2019, customers can discover the universe of Roger Bezombes. A collection of 16 lithographic posters, created by the French artist for an Air France promotional campaign in the 1970s, also exhibited at the Pompidou Centre in Paris in 1981, evoke the joys and art of travel. Artwork from "La vie autour du monde" poster series is presented by the latter's grandson, gallery owner Eric Mourlot.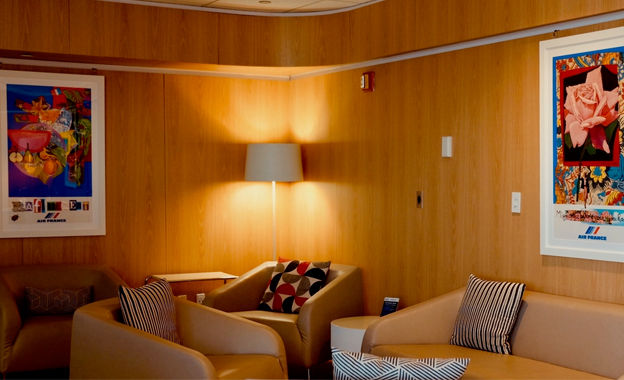 Air France, a global airline of French inspiration, with high standards and a caring attitude, turns the flight into a moment of real pleasure on all its daily operations in France, Europe and worldwide.
Air France-KLM is the leading Group in terms of international traffic on departure from Europe. It offers its customers access to a network covering 314 destinations in 116 countries via flights operated by Air France, KLM Royal Dutch Airlines and Transavia. With a fleet of 548 aircraft in operation and 101.4 million passengers carried in 2018, Air France-KLM operates up to 2,300 daily flights, mainly from its hubs at Paris-Charles de Gaulle and Amsterdam-Schiphol.
Its Flying Blue frequent flyer programme is one of the leaders in Europe with over 15 million members.
Air France-KLM and its partners Delta Air Lines and Alitalia operate the biggest trans-Atlantic joint-venture with more than 275 daily flights.
The Group also offers cargo transport and aeronautical maintenance solutions.
Air France-KLM is a member of the SkyTeam alliance which has 19 member airlines, offering customers access to a global network of over 14,500 daily flights to more than 1,150 destinations in more than 175 countries.
La Prairie is the leader in luxury skincare, present in 90 countries around the world. Synonymous not only with luxury, the La Prairie name evokes innovation, performance, high-end service and Swiss perfection — the purity, precision, innovation and craftsmanship inherent to the extraordinary land that saw the brand's inception in 1978. La Prairie endeavours to fulfill a quest for timeless beauty through the highest standards of advanced technology combined with exquisite formulations and elegant packaging — elevating skincare to art.