The La Première suites take off to New York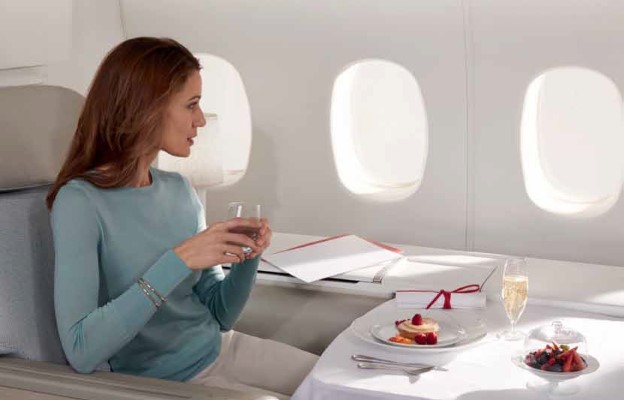 After Singapore and Jakarta, Air France's new La Première cabin has been gracing the skies on the New York route since 27 January 2015. On board the Boeing 777-300 equipped with these new suites, customers can enjoy a real designer suite, providing total privacy and comfort.
This winter, Air France is offering up to 33 weekly flights to New York-JFK from Paris-Charles de Gaulle. The gradual introduction of the Boeing aircraft equipped with these new cabins enables Air France to offer the new La Première suites to this destination up to 6 times a week. On board, customers also benefit from the new Business cabin, a real cocoon in the sky. They can also enjoy the new Premium Economy cabin with 40% more space, as well as Economy, offering optimal comfort for all passengers.
Flight schedules for aircraft equipped with the new La Première suites (in local time)
AF010: Leaves Paris-Charles de Gaulle at 16:35, arrives at New York-JFK at 19:05;
AF011: Leaves New York-JFK at 21:50, arrives at Paris-Charles de Gaulle at 11:00 the following day.
La Première, a designer suite
Air France has dressed each suite with thick curtains, held back with leather tiebacks. A unique and daring concept, they enable the passenger to decide whether to be totally isolated or just partially. In an instant, the La Première seat turns into a fully-flat bed over two metres long. The armrests are fully retractable and offer a vast space 77 cm wide. When the passenger is ready to go to sleep, the crew members install a mattress on the seat, for impeccable comfort. They are then given a fluffy pillow and a Sofitel My Bed® duvet. When the curtains are closed, the partition raised and the light subdued, the suite embraces the passenger, for total privacy.
Air France

's new-look lounge at New-York-JFK

Between New York and Paris, an exceptional trip starts at the airport. Since December 2014, La Première, Business and Flying Blue Elite Plus customers have been enjoying a completely new lounge at the heart of New York-JFK airport, located in Terminal 1. It offers many services in a warm environment for enhanced comfort and relaxation before the flight.

Moreover, La Première customers enjoy a personalized welcome on arrival at New York-JFK airport. They are accompanied to the lounge, where a VIP area is available just for them. Located on the mezzanine level, this private venue offers them various exclusive services including dishes served by a maitre d'hôtel.
Paris-New York, a legendary route at the heart of
Air France

's move upmarket

It is not a coincidence that Air France chose New York to present its customers with its most innovative new products. The Paris-New York route is Air France's leading route on the network in terms of capacity. Since 1946 and the birth of the transatlantic service, Air France has made this leading destination a showcase for all its innovations. With the launch of the route in the 1950s, Concorde taking off in 1977, the introduction of the A380 in 2009 and the first Boeing 777 equipped with the new cabins in 2014, these are just a few of the many milestones that have marked Air France's history in New York.