The Air France A380 lands in Miami!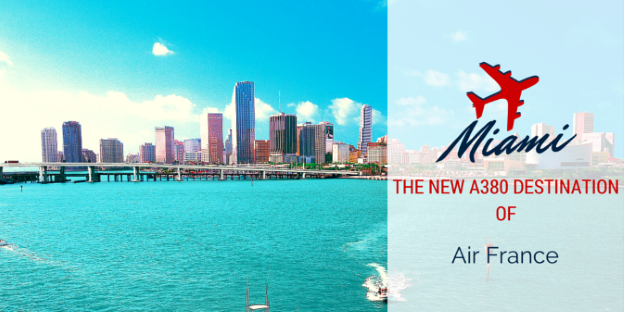 During the 2014-2015 winter season (26 October 2014 – 28 March 2015), Air France will operate up to seven flights a week to Miami from Paris-Charles de Gaulle. From 1 December to the end of the season, all flights will be operated by Airbus A380.In the United States, Miami therefore becomes the third destination served by the largest aircraft in the Air France fleet, after New York and Los Angeles.

Daily flight schedule* (in local time)
AF090: leaves Paris-Charles de Gaulle at 13:50, arrives in Miami at 18:05
AF099: leaves Miami at 20:55, arrives at Paris-Charles de Gaulle at 11:20 the following day

*daily flight except Wednesdays, from 5 January 2015 to 1 February 2015 and from 9 March 2015 to 28 March 2015.
The A380, optimum travel comfort
The Air France A380 has 516 seats in four cabins: La Première (9 seats); Business (80 seats); Premium Economy (38 seats) and Economy (389 seats). On board, all passengers enjoy optimal travel comfort and a wider range of amenities. 220 windows provide the cabin with natural light and changing lighting moods help passengers to cross time zones without fatigue. In addition, six bars located throughout the aircraft enable passengers to meet up during the flight.

With a cabin five decibels quieter compared to industry standards, the A380 is particularly quiet aircraft. It also features the latest technology in terms of entertainment and comfort. External images are broadcast live throughout the flight via three cameras housed at the front, underneath and at the rear of the plane.

Book your trip with Air France to Miami!