February's delicacies on board Air France Flights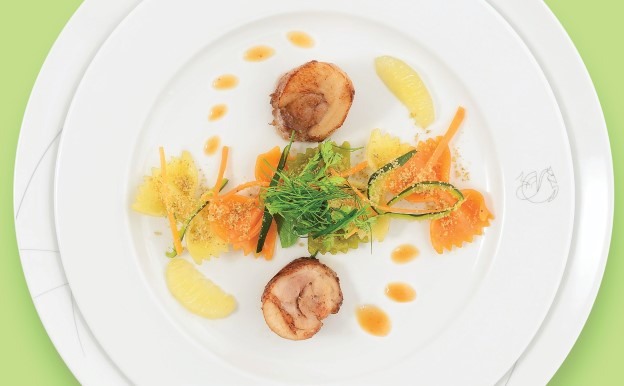 Régis Marcon and Anne-Sophie Pic, two chefs each with three Michelin stars, create delicious dishes in the La Première and Business cabins on long-haul;
New tableware signed by Jean-Marie Massaud to highlight each dish.
In February 2015, Régis Marcon and Anne-Sophie Pic, two chefs each with three Michelin stars, are putting the spotlight on fine French dining in Air France's La Première and Business cabins. On departure from Paris and on the entire long-haul network, the chefs offer cuisine combining high quality products and inventive recipes with unique flavours to discover on board. And because every detail counts, new tableware designed by Jean-Marie Massaud
highlights each dish.
The ambition of Régis Maron, "To put nature onto your plate"
In February and March 2015, Régis Marcon has designed a new starter and five new main dishes for the la Première cabin. By spotlighting the best of French culinary heritage, the chef offers an authentic and gourmet cuisine. In February, among the dishes offered on board, customers can enjoy a braised veal shank, catfish and shrimp with mushrooms bouillabaisse-style or steamed chicken with honey and lemon.
In March, a green Puy lentil stew with shrimp or chicken with black morels are just a couple of the dishes on offer. Every two months, a Michelin-starred French chef introduces new culinary creations onto the la Première menu. Régis Marcon, Guy Martin, Joel Robuchon, Anne-Sophie Pic and Michel Roth will succeed one another this year with the aim to offer the finest dining experience in the sky.
Taste and flavour by Anne-Sophie Pic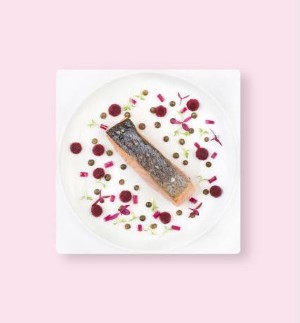 After signing dishes in the La Première cabin in December and January, Anne-Sophie Pic is continuing her collaboration with Air France in the Business cabin by designing five brand new dishes. Excelling in the combination of flavours, the chef offers cuisine combining powerful aromas with the most delicate of flavours. Roasted veal accompanied by a royal quinoa with red peppers and pineapple or lightly-fried cod served with a creamy black rice and coconut milk are just a couple of the dishes to be enjoyed in the next six months. From February, a dish by Anne-Sophie Pic will be available from a choice of four dishes on flights departing from Paris. Her creations are renewed twice a month for the pleasure of frequent travellers.