Tiny pod hotels are now all over Japan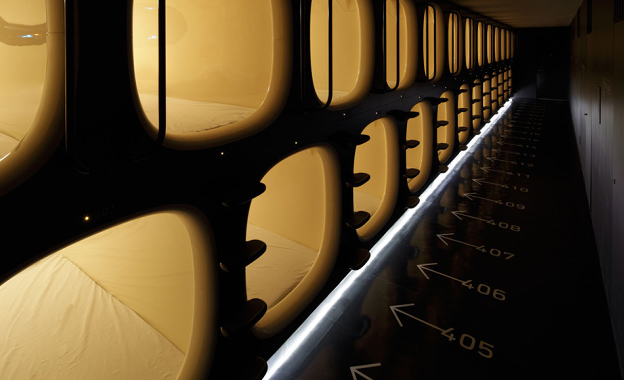 Some years ago, pod hotels were an innovation in Japan. Taking a quick nap or a real multi-hour sleep was considered exotic. Pod hotels have now gone mainstream in Japan.
One example of pod-hotels is Nine Hours. Today, this chain has five locations, including include Narita Airport, Kyoto, Sendai, Shinjuku-North in Tokyo, and a women-only location in Kanda, also in Tokyo.
According to a BusinessInsider report, there is nothing fancy about the hotel. But it is great if you are only staying for a nap or a layover between flights. The hotel accommodates people for between one and nine hours, depending on their needs. It's cheap, at least to Japanese standards: for only $44, you get access to a private pod, sleepwear, and access to the bathrooms and lounge.
The pods are stacked and can be rented on an hourly basis for around $9 an hour for the first hour and $3 for each additional hour. $7 is enough for a shower between flights. Every pod is equipped with a night light for reading and fresh bedding that gets replaced and washed after each use. The Nine Hours hotels are open 24 hours for anyone in need of a power nap.
Further reading on businessinsider.com
Image by Nine Hours