W Hotel Washington, DC follows 'Mukbang' trend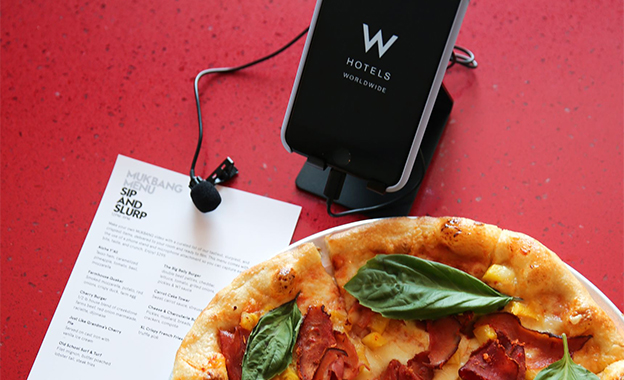 W Hotel Washington, DC follows 'Mukbang' trend
The W Hotel in Washington D.C. has introduced a 'Sip & Slurp' menu, an extravagant $285 room service package. The initiative follows a new trend in which vloggers stream themselves eating large quantities of food. The hotel now offers the perfect menu for this so-called Mukbang trend.
The special 'Sip & Slurp' menu has been launched to celebrate the hotel's new $50 million renovation. With the special menu, the hotel cleverly aims to attract Youtube vloggers and Instagram influencers that want to trade a free stay for some social media exposure.
The Verge reports that ordering the menu will bring a wide array of food to your room – including a mike and phone stand that you can take home. The food list includes Aloha Y'All (tasso ham, caramelized pineapple, tomato, basil, mozzarella), Farmhouse Quaker (smoked mozzarella, potato, red onions, crispy duck, farm egg), a Cherry Burger, a Big Belly Burger, Old School Surf & Turf (filet mignon, butter-poached lobster tail, steak fries), Cheese & Charcuterie Board, XL Crispy French Fries, Carrot Cake Tower, Just Like Grandma's Cherry Pie, served on cast iron with vanilla ice cream.
Further reading on: theverge.com