Changi Singapore to open Jewel attraction complex in 2019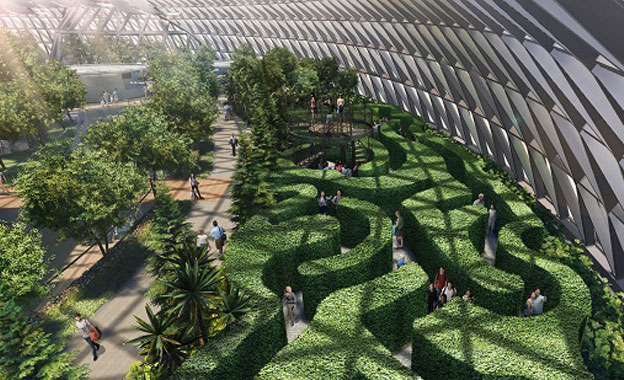 A long transit at Changi Airport Singapore will never be a boring experience again. The airport is currently finishing the construction of Jewel Changi Airport (Jewel), a mixed-use development at the Singapore airport full of distraction for travellers.
The project will include gardens and attractions, a hotel, aviation facilities and 300 retail and dining facilities. The complex covers a total floor area of 134,000 m, spanning 10 storeys – five storeys above-ground and five basement storeys.
Jewel will include many attractions that will help travellers enjoy their transit time, including the Rain Vortex, the world's largest indoor waterfall. Inside the Jewel canopy, the Forest Valley offers an indoor garden spanning five storeys. At the top level, Canopy Park features gardens and leisure facilities.
Jewel is a lot of fun, Changi announces in its press releases. The Sky Nets attraction, for example, centres around two concepts - a bouncing net and a walking net; one of the highlights is the thrill of walking over a void 25m above the ground!
The Discovery Slides features four slides weaved within the sculptural playscape harmonised in a garden environment. Atop the Discovery Slides is a 6.5m platform which offers a magnificent view of the Forest Valley. The Canopy Mazes, which feature two different maze concepts - the hedge maze and the mirror maze. Don't get lost for too long – you may miss your connecting flight!
Further reading on: changiairport.com