Airports track smartphones to speed up security lines
A regional airport in Cincinnati will become the first airport in the U.S. to monitor travellers' smartphones and other Wi-Fi-equipped gadgets to identify congested areas swiftly and display wait times, for example at passport control. The so-called BlipTrack system has already proven its benefit of shortening waiting lines on airports and helping passengers to relax.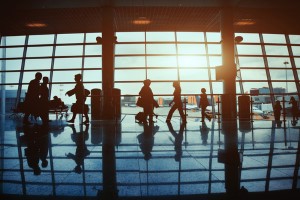 BusinessWeek reports that the system detects the presence of a gadget via its embedded Wi-Fi and Bluetooth signals. About half of airport passengers carry a Wi-Fi-enabled device such as a smartphone or laptop, and that number is only expected to rise.
Tracking traffic flows and analyzing data quickly helps airports, passport control and customs departments reduce or eliminate problem spots, for example by adding extra booths and handling capacity. The most important benefit is that data displays show the wait times for the security lines, which makes passengers more at ease with the idea of having to wait. The BlipTrack system is already deployed in 20 airports, including those in Amsterdam, Dubai, Geneva, Oslo, and Toronto.
The technology may also be used to speed up security checks for departing passengers, resulting in more time for a cup of coffee and to relax before the departing of flights.