Burj Rafal Hotel Kempinski – best luxury hotel in Saudi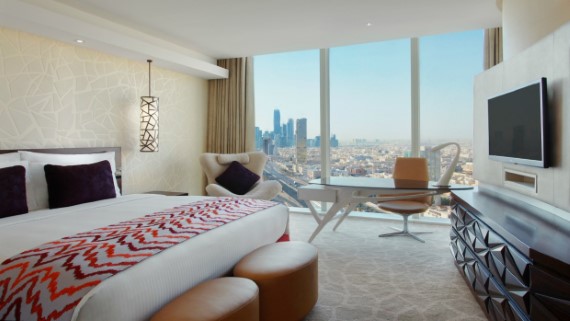 It takes a lot of facilities, amenities and perfect service to win the title of 'Best Luxury Hotel, Saudi Arabia' in the Business Destinations Travel Awards 2015. The Burj Rafal Hotel Kempinski claimed the title. BlueBook lists a few reasons why this hotel won the prestigious award.
1. It is a brand new hotel, in Rafal Tower, the tallest residential tower in the city. The Burj Rafal Hotel Kempinski's is only in its second year of operation.
2. It has a perfect location, in the heart of Saudi Arabia's capital of Riyadh, 27 kilometres away from the airport.
3. Sheer style and luxury, in every aspect! The hotel describes itself as 'a blend of European design and Arabian hospitality'. The hotel's furnishings have been carefully designed to include artistic touches of the Saudi culture. These subtle nods towards the hotel's heritage run throughout the hotel. The hotel staff has one major focus: service. Burj Rafal Hotel Kempinski's corporate packages include airport pick-up and drop-off services, complimentary laundry services and flexible check-in and checkout times.
4. A great culinary experience. From Le Bijou, a spacious, French-concept lounge that serves classic dishes with an innovative twist to El Capitolio the hotel's exclusive cigar lounge and from The Grand the luxury buffet restaurant to Tugra, the hotel's signature restaurant: it's all first class.
Image by Kempinski