Four Seasons in Kyoto – historic garden, breath-taking views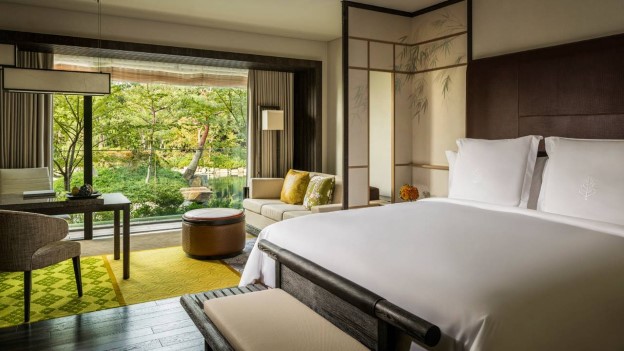 When travelling for business, staying in a hotel that is set in an 800-year-old traditional garden is a welcome bonus. A wonderful location and breath-taking views are some of the exclusive benefits of the Four Seasons Hotel Kyoto, which opened last year.
In Japan's historic imperial capital, the new Four Seasons is located at the foot of Higashiyama Mountain in the city's temple district. It is probably one of the few top-class hotels in the world that is set amidst numerous historic landmarks. It is an ideal place to unwind after a business day in Kyoto's tech industries that are only a few minutes' drive by car.
The 123 guest rooms and suites and 57 residences of the hotel have been decorated in traditionally-inspired yet contemporary style. The hotel offers four dining options: an exclusive sushi restaurant, a modern brasserie, lounge and a beautiful sukiya (tea house). An intimate spa is adjacent to a shimmering indoor pool.
Nestled in a 12th-century, Shakusuien ikeniwa (pond garden), the Four Seasons Hotel Kyoto is easily accessible through Osaka's Kansai and Itami airports.
Kyoto, one of Japan's best-preserved historic cities, is home to biotech, nanotech, publishing, textiles and education enterprises and also offers Japan's top medical school.
Further reading on prnewswire.com
Image by Four Seasons