Hilton Buenos Aires' all-pink Barbie Room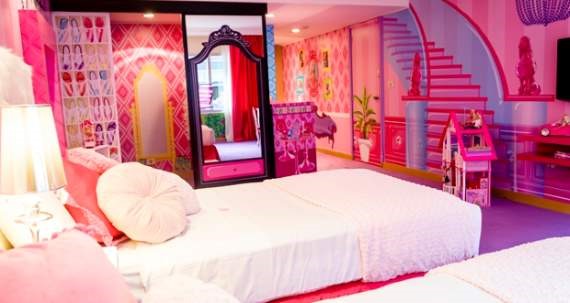 "I am sorry Sir, we are fully booked. The only room left is number 136". You are probably happy that you just secured the last room the Hilton Buenos Aires. Wait until you open the door, as this is the most famous room of the hotel – the recently refurbished pink Barbie Room!

Guests can immediately see the Barbie Room's pink door, for room 136, from the hotel's atrium lobby. The room sleeps two people and was designed especially for Hilton Buenos Aires, inspired by Barbie® Dreamhouse. The room features exclusive Barbie items not found anywhere else and welcomes guests to a Barbie experience with games, furniture, pillows, toiletries, dolls, movies, toys, a changing room, and even a runway with mirror where the fashion icon's fans can model.

For business travellers, this room is still OK. It features a 32-inch LCD, work desk, electronic safe box for your laptop and valuable belongings, a spacious walk-in-closet and beautiful marble bathroom with independent shower.