Hotel trend: sleeping in an art gallery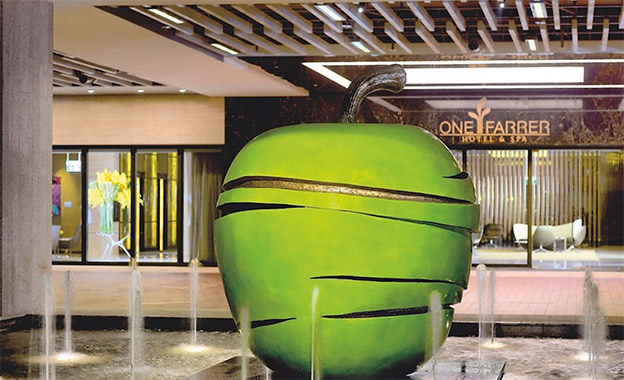 Business and leisure hotels are adopting art as a way to stand out and to inspire guests to stay with them. The trend is visible all over the world, particularly in Asia.
Hotels are the new art galleries, TravelWeekly Asia reports. "Hotels are now making the connection between guests' mental stimulation and their heightened satisfaction during a stay by framing art as a way of interacting and creating memorable encounters with their guests", says the report, that adds several examples of how hotels manage to get the guests' attention with art displays.
- Imperial Palace Boutique Hotel in Seoul: you can sleep under artwork featuring everything from multi-coloured peeled apples to large ruby-red lips.
- One Farrer Hotel Singapore welcomes guests with an iconic bronze green apple sculpture at the main entrance, alongside Artemis, the Greek God of lifestyle, floating upon a reflective pond. Nearly 700 commissioned pieces from artists in Asia are displayed in the hotel's rooms. The hotel also runs daily in-house guided art tours.
- Art Deco Vagabond Club Singapore features an artist-in-residence programme, art tours and a collective of local artists that make the Vagabond Club their home once a week.
- Pan Pacific Hotels in Singapore boasts an extensive corporate art collection.
In Macau, the Macao Government Tourism Office (MGTO) has had the support of several of Macau's top resorts for Art Macao, a five-month extravaganza of exhibitions, performances and festivals.
Further reading on: travelweekly-asia.com