Manhattan's new huge artwork: Vessel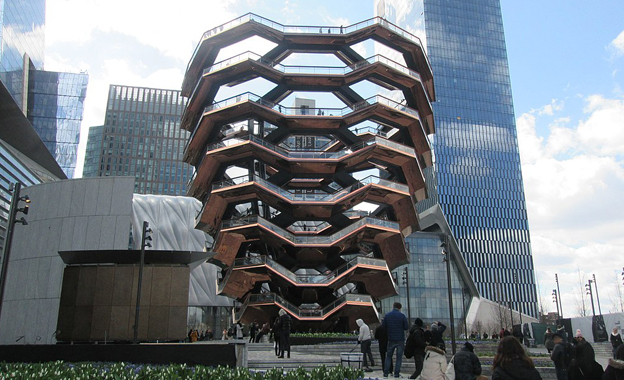 Manhattan has a new attraction: Vessel, a giant honeycomb-like sculpture at New York's Hudson Yards. The huge structure by British designer Thomas Heatherwick is already drawing large crowds.
The artwork structure is an Escher-like lattice of 154 staircases, interconnected stair flights and 80 landings. The structure is narrow at its base, then expands to reach 150 feet high and 150 feet wide (46 metres) at the top.
The structure of flights and landings create a mile of walkways that, according to a report by Dezeen, "will no doubt become a popular selfie spot for tourists. A sloping elevator is also included to ferry visitors directly to the top level."
Vessel is located at the heart of Hudson Yards, in the middle of a landscaped plaza and surrounded by glass skyscrapers. The next phase of this area's development will see the construction of eight more towers, along with a school and other neighbourhood amenities.